US employment rises again in August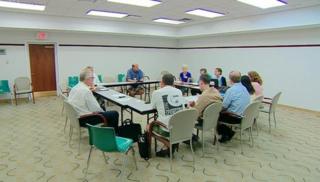 The US added 169,000 new jobs in August, fewer than expected by many analysts.
The unemployment rate fell to 7.3%, down from 7.4% in July, the lowest level since December 2008.
But the US Labor Department said this was because more Americans stopped looking for work.
It comes ahead of the September meeting of the US Federal Reserve, at which policymakers are widely expected to begin cutting stimulus measures.
The monthly jobs figures are one of the most closely watched US economic indicators.
The Fed is buying $85bn in assets every month as a way of supporting the economy, but senior figures at the reserve bank have already indicated their intention to roll back the programme in the coming months.
'Steady as she goes'
Analysts had expected about 180,000 jobs to be added in August.
"The August jobs report was a bit of a disappointment, particularly given the string of better economic news in recent days," Mark Zandi, chief US economist at Moody's Analytics, told the BBC.
"Looking through the zigs and zags in the data, it is steady as she goes in the job market. Job growth in August isn't much different than it's been over the past more than two years."
The Labor Department also revised down the number of jobs added in July, from 162,000 to just 104,000 - the fewest in more than a year.
This brings the average monthly job growth for 2013 to 160,000, which is just barely enough to keep up with population growth.
The labour force participation rate fell to 63.2%, a sign that fewer Americans are active in the workforce. Some economists have argued this is due to an ageing population, but many think it is due to workers discouraged after many years of unemployment or underemployment.
Taper fears
The mediocre jobs report may add fuel to the argument that the US economic recovery is not yet robust enough to sustain itself without the additional help of the Fed.
Investors have been anxiously anticipating the two-day meeting of the Federal Open Market Committee, which is set to take place from 17-18 September.
Already, mortgage rates have risen in anticipation of the so-called taper, which Fed chairmen Ben Bernanke said would occur only if positive economic data supported the bank's perception that the US economic recovery was secure.
US economic data as of late has been mixed, with US second-quarter GDP being revised upwards to 2.5% from 1.7% and positive housing data.
However, retail sales have been sluggish during the back-to-school season. Several large retailers, including Wal-Mart and Macy's, have warned of slowing consumer demand.
US consumers make up 70% of US economic activity.
The jobs landscape
But for most job seekers, speculation about the Fed's actions are the least of their concerns.
John Fugazzie founded a job help group called Neighbors Helping Neighbors in New Jersey in 2011.
A former retail executive, he had found himself looking for work after getting laid off.
"I had attended some other meetings and really felt isolated looking for work alone," Mr Fugazzie told the BBC.
"You'd stand in the deli line and you'd talk to someone and you'd find out they were out of work too. So it made sense to bring people together."
Since that first meeting, the group has rapidly expanded to 28 chapters with more than 1,200 members.
There's a thriving LinkedIn group, where Mr Fugazzie posts success stories of members - he has said more than 300 have eventually been successful in their job search.
"I think that motivates people - even though the job search is difficult, as long as people in your group are landing you feel a hope," says Mr Fugazzie.
It's hope that Mr Fugazzie himself also needs. After finding a job with a local supermarket chain, he was laid off a few months ago and then suffered a heart attack.
Although his health has recovered, his mounting medical bills mean that he has once again turned to the group for help in finding work.
"I'm back healthy - but medical bills, I can't pay 'em," he says. "I need a job."
'The toughest part'
The reality of the US labour market is that while the numbers might indicate improvement, they are not nearly large enough to make up for the severity of the downturn.
The latest report showed that while the US economy may have created some jobs, these have not been enough to help the long-term unemployed, whose ranks number 4.3 million - more than 37% of those who are looking for work.
At a recent meeting of the Shrewsbury, New Jersey chapter of Neighbors Helping Neighbors, more than a dozen job seekers, most of whom have been out of work for more than a year, sat around a meeting table in the local library.
Some had recently been laid off, others had been looking for some time and most were trying to turn their part-time jobs into full-time employment.
Richard Notarnicola, the volunteer leader and a former IT professional with more than 20 years of experience, led the day's session.
"Does anyone have good news?" he starts off by asking, and each person in turn shares a bit of something positive - a response to a resume, or a new email list with job postings.
"That's the toughest part, getting that interview," Mr Notarnicola says encouragingly to one member upon hearing about a positive response.
After being out of work for 20 months, Mr Notarnicola says he's had to be realistic about his expectations.
"If I can't be what I used be, what do I want to be?" he says.
After the group trades positive stories, each member stands up and gives a 15-second "elevator pitch" about themselves and their skills. Members provide feedback and encouragement.
In a testament to the current state of the shaky US jobs market, even one member who recently got a job promised she would return.
"All jobs are temporary, no matter what," she says with a shrug.
"So keep me in the loop."