UK trade deficit doubles in July to £3.1bn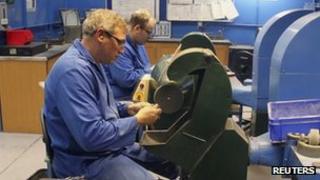 The UK trade deficit has doubled in July from the previous month, according to the Office for National Statistics.
The gap between imports and exports for July, £3.085bn, was more than double June's trade gap of £1.256bn.
It was also the biggest monthly deficit in trade since October 2012.
The deterioration was partly due to a plunge in exports to countries outside the European Union. Exports to those nations fell 16% - the biggest monthly fall in more than four years.
"Today's trade figures could be an early warning that the economy cannot depend on the strong support that it received from net trade in the first half of the year for much longer," said Samuel Tombs of consultancy Capital Economics.
Recent data on the UK economy has pointed to gathering momentum.
On Wednesday, a report showed that activity in the service sector hit a six-year high.
Many economists now think the Bank of England will have to start scaling back efforts to boost the economy.
Friday's other data on the state of industry was mixed.
Industrial output, which includes energy production, was unchanged from June. Economists had been expecting a slight rise.
However, factories increased production by 0.2% in July from June.