The trouble with Chinese data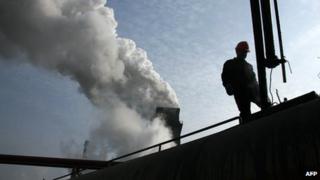 In June, China's customs administration cracked down on false trade invoices that disguised money flows designed to get around capital controls.
It ended up reducing China's trade figures.
Now, 28 companies in Luliang county in Yunnan province have reported industrial output that was more than double what their actual production was last year.
According to Xinhua, the companies defended themselves and said that local officials had induced them to do so in exchange for loans from state-owned banks.
The trouble with Chinese data is that government officials have been set targets in the successive Five-Year Plans that govern the country's economic planning. And no official would want to miss their target.
So, it probably creates an upward bias in their reporting and overstates Chinese growth.
Growing discrepancy
This is one of the reasons why the National Bureau of Statistics gathers their own statistics from firms and households directly to compute economic growth, so as to not rely on local governments.
The gap between the national figure and the combined local figures was 2.7 trillion yuan ($440bn; £280bn) in 2009 and rose to 5.8 trillion yuan in 2012.
That would have added 11% to China's total gross domestic product (GDP) last year.
In the first half of this year, the output of all of the provinces was 3.2 trillion yuan higher than the national figure. Computing aggregate Chinese GDP based on provincial data would have put annual GDP expansion at well over 10% in the past three decades.
It's not to say that they can overcome all of the biases of course.
But, by directly measuring what firms produce and households earn, they also try and address another source of mis-measurement common in developing countries.
There may be income that isn't measured if a farmer sells some produce by the side of the road, or urban peddlers selling goods on the street.
The so-called grey economy can be fairly large as seen in countries around the world, adding more than 50% to GDP in places like the Middle East and Africa. For a country as vast as China, it is likewise a source of downward bias in its statistics.
Clampdown
In any case, these are hardly new complaints about the accuracy of Chinese statistics.
Before becoming premier, Li Keqiang had questioned the reliability of Chinese GDP. He was reported to have said to look instead at three direct indicators of economic activity: cargo volume on railways, electricity consumption, and bank loans.
The recent wave of action fits with the overall push by the new Chinese leaders to crack down on fraud and corruption. For Premier Li, it is an attempt to increase confidence in the Chinese economy.
Zheng Yuesheng, the spokesman for the customs agency, had said false trade declarations exist but were "definitely not mainstream".
We may soon find out.