Network Rail appoints new boss Mark Carne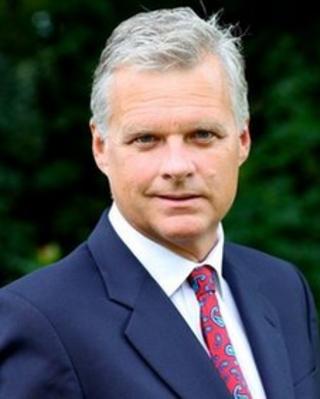 Network Rail has announced that Mark Carne, a former oil executive, will be its new chief executive.
Mr Carne, who used to work at Royal Dutch Shell, will receive a basic annual salary of £675,000, which is some £80,000 more than his predecessor.
He will join the rail network manager next year, formally taking over from Sir David Higgins in April.
State-backed Network Rail is the owner of most of the UK's track and many of its biggest stations.
The BBC's transport correspondent Richard Westcott said Sir David will be missed by many, including the trade unions, who credit him with improving both the "notoriously defensive" culture at Network Rail and industrial relations.
Mark Carne was previously executive vice-president of Shell in the Middle East and North Africa.
'Insult to passengers'
Network Rail said his salary was determined following an "exhaustive and independent process", involving comparing salaries of chief executives in the public and private sectors.
Although his base salary is higher than Sir David's, the company said his overall remuneration package, including bonuses, would not be greater.
Network Rail's chairman, Richard Parry Jones, said Mr Carne had shown that he has "the necessary skill and global experience to build on, and develop further, what Network Rail has already achieved... under the leadership of David Higgins".
Mr Carne said: "The success of Network Rail is vital for Britain's economy and this is an exciting time for the whole rail industry."
But in a statement the main transport workers union, the TSSA, criticised the size of Mr Carne's salary.
"At a time of ever-increasing rail fares, and falling wages, we think this is an insult to rail passengers who have seen price rises of 20% since May 2010," said TSSA leader Manuel Cortes.
"We don't blame Mr Carne for taking the money but he should never have been offered it in the first place."
Prime Minister David Cameron said the size of Mr Carne's salary was a matter for Network Rail.