ECB improves forecast for eurozone economy this year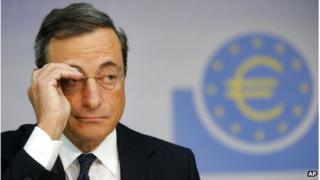 The European Central Bank (ECB) has improved its outlook for the eurozone economy this year.
It now expects the single-currency area to shrink 0.4% compared to its previous forecast in June of a 0.6% contraction.
The ECB on Thursday held interest rates at 0.5% despite tentative signs that the eurozone is recovering.
The 18-nation bloc emerged from recession in the second quarter of this year, with growth of 0.3% recorded between April and June.
Caution
ECB president Mario Draghi said: "I am very, very cautious about the recovery. I can't share enthusiasm. It is just the beginning. Let's see, these shoots are still very, very green."
The euro fell to a six-week low against the US dollar after Mr Draghi's comments.
Explaining the drop, Adam Cole, head of currency strategy at RBC Capital Markets, said: "He didn't pay any lip service to the better data that we've had in recent weeks. He also reiterated the forward guidance from a month ago."
In July, Mr Draghi said interest rates are likely to remain low for an "extended period".
It was the first time the central bank issued so-called forward guidance on interest rates, but the bank has not given any indication on how long an "extended period" might be.
That will in part depend on how European economies fare over the coming months.
In the second quarter of the year, Germany and France saw stronger-than-expected growth of 0.7% and 0.5%, respectively.
But weaker economies, including Spain, Italy, and the Netherlands, all saw output fall.
The ECB expects the recovery to be gradual over the rest of the year, and strengthen in 2014.