Chinese airline fleets 'to triple in size'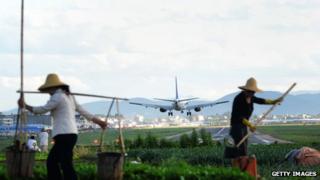 China's airlines are likely to triple the size of their fleets over the next 20 years, US airline giant Boeing has forecast in its annual sales outlook.
Boeing said strong economic growth and rising tourism in China would spur increased demand for aircraft.
Boeing and European rival Airbus and are both looking to China for growth, with demand slowing in other areas.
China's economy is growing at an annual rate of about 7.5%, according to official figures.
That is slower than in previous years, but still much stronger than Europe, where economies are still emerging from recession, and the US.
Boeing, which, together with Airbus, dominates the global airliner market, forecast that purchases from Chinese airlines would rise by 7% a year from now until 2032.
That means 5,580 planes will be bought for a total of $780bn (£500bn).
"Tourism in China and intra-Asia travel will help spur a strong demand for single-aisle airplanes," Boeing said in a statement.