Number of families in B&B accommodation hits 10-year high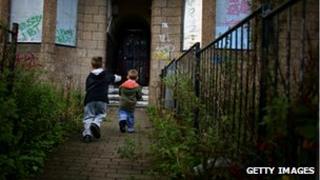 The number of families without accommodation being put up by local councils in B&Bs has risen to its highest in 10 years.
New government figures show that 2,090 families with children in England were living in a B&B at the end of June.
That is the highest figure since September 2003, and an 8% increase on the same month last year.
But the government said the number of people without accommodation is much lower now than it used to be.
The figures also show that one in three families have been living in a B&B for more than six weeks, the statutory maximum.
Local authorities are only supposed to house families in such a way, and for such a period, in emergencies.
The homeless charity Shelter said the numbers were "a wake-up call".
'Cause for concern'
The figures, from the Department of Communities and Local Government (DCLG) show that 760 families were in B&B accommodation for longer than six weeks.
That is a 10% increase on the same month in 2012.
"Ordinary families are falling through the net and risk losing everything," said Campbell Robb, the chief executive of Shelter.
"We're worried about the thousands more just behind them who are living on a knife-edge, where all it takes is a sudden job loss or illness to tip a family into a downward spiral that can put their home at risk," he said.
However, the government said the rate of people registered with their council as being without accommodation was now lower than in 27 out of the last 30 years.
But it said any such situation was a cause for concern.
"Homelessness has no place in the 21st century," said the housing minister, Mark Prisk.
"And I am determined to ensure we don't return to the bad old days, when it was more than double what it is today," he added.
The government said it was giving more than £400m to local authorities, to help house families hit by changes to the benefits system.