New UK car sales jump in August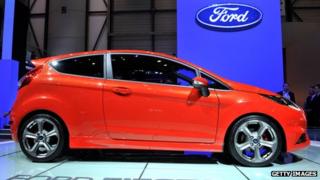 New car sales have risen in August for the 18th month in a row, according to the Society of Motor Manufacturers and Traders (SMMT).
A total of 65,937 new cars were registered last month, up 10.9% on the same month last year.
Car sales are expected to keep rising, after the introduction of the new 63 number plate in September.
The SMMT estimated that total new cars sales for 2013 could reach 2.2 million, an 8.4% rise on last year.
The SMMT's chief executive, Mike Hawes, said: "Private and fleet buyers are clearly capitalising on attractive deals and new technologies against a backdrop of increasing economic confidence.
"The August rise bodes well for the new 63 plate."
Number plates of newly-registered cars are changed twice a year, in March and September.
"Robust car sales in August provide yet more good news on the UK economy," said Howard Archer, chief UK economist at IHS Global Insight.
"In fact, car sales have been robust through 2013, which is in marked contrast to the weakness seen across most of Europe," he said.