Dixons Retail to sell loss-making online store Pixmania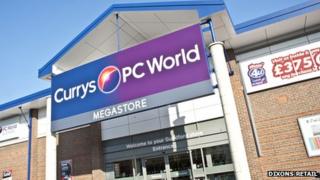 Dixons Retail, the owner of PC World and Currys, has received an offer for loss-making online retailer Pixmania.
The firm said German industrial group Mutares had agreed to buy the firm. Under the offer, Dixons will provide 69m euros (£58m) to support Pixmania.
Pixmania lost £31m in the financial year ending 30 April 2013.
Dixons also reported 2% rise in first-quarter sales on a like-for-like basis from the same period last year, which strips out sales in new stores.
Dixons paid a hefty one-off charge to reorganise Pixmania.
In a statement with the trading update, Dixons chief executive Sebastian James said: "Despite a July that was sizzling in the north (of Europe) and chilly in the south - affecting electronics and air conditioning sales respectively for that month - we have had an encouraging start to the year.
"Margins have held up reasonably well across the group despite some anticipated and vigorous skirmishes in the Nordics where, I am happy to say, we have continued to grow market share."
The deal to sell France-based Pixmania still requires negotiation with representatives of the firm's 1,200 staff.
Mr James says that if the deal goes through the company should benefit from "an injection of entrepreneurial vigour".
The buyer, Mutares, owns a portfolio of medium-sized businesses, including a manufacturer of office furniture, a maker of bed frames and an auto parts firm.