G20 summit: Putin warns economic risks remain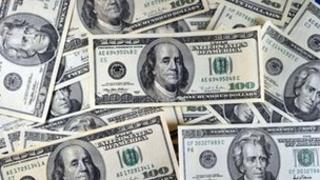 Russia's President Vladimir Putin has told world leaders at the G20 summit that a return to economic crisis cannot be ruled out.
He said they had not resolved the problem of returning the world economy towards steady and balanced growth.
The leaders, meeting in St Petersburg to discuss the world economy, made progress on tightening up on multinational company tax avoidance.
The meeting's economic agenda has been overshadowed by the Syrian crisis.
Mr Putin said: "Our main task is returning the global economy towards steady and balanced growth. This task has unfortunately not been resolved.
"Systemic risks, the conditions for an acute crisis relapse, persist."
The leaders also agreed to work to boost employment and growth.
Easy money
The meeting, between representatives of the countries that account for two-thirds of the world's population, also pondered the effects of an end to the US financial stimulus programme.
The leading economies of the eurozone and the US are showing signs of increasing growth.
That in itself, though, means that policymakers, particularly in the US, are planning to edge away from the lax monetary policies brought in to alleviate the effects of the credit crunch.
Some observers are concerned that investors are not ready to deal with an end to easy money and rock bottom interest rates, and this was also a key topic of discussion.
The chairman of the US central bank, Ben Bernanke, said in May that the US may start to rein back on its $85bn-a-month bond-buying programme, which releases cheap money into the system.
His remarks sparked a sell-off in emerging markets as investors rushed back to buy dollars in anticipation of higher returns.
This has led to spectacular falls in some markets - notably India, where the rupee has hit record lows, something that makes imported goods and commodities more expensive.
China's representative said at the meeting the US should go easy on this and be "mindful of the spill over effects and work to contribute to the stability of the global financial markets and the steady recovery of the global economy".
The G20 became an important platform for global policy discussions in 2008 when it was effectively re-booted to co-ordinate a global response to fighting the financial crisis.
One of the main topics to emerge this year has been multinational companies' use of legal, highly complex tax minimisation systems.
However, crisis-ridden Syria is the most immediate global concern to many.
The two most important nations - the host country, Russia and the US - disagree deeply over how to respond, and comments on the situation in and around that country have attracted the most attention.