Your rights when asked to relocate for work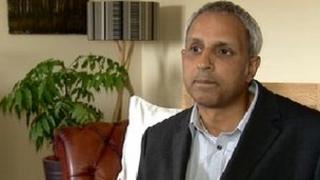 Freight train driver Farooq Rashid is used to being on the move - but that did not make relocating for work any easier.
In April, he had to move from his base in Edinburgh, where he had worked for 21 years, to Carlisle, more than 70 miles away.
"It is difficult for anyone to leave a city where they were born and have worked all their life," the 48-year-old says.
"If I was a younger man, then I might see it as a new challenge."
As it was, he had to weigh up the advantages of the new job, against all the ties that he had in Edinburgh. They included his two sons - Arran, 18, and Adam, 13 - who still live in the Scottish capital.
Moving costs
A surplus of drivers in Scotland, and a shortage in England, meant he was offered a financial package to relocate.
Essentially, it covered the cost of renting a place to stay in Carlisle, after downsizing to a smaller property to return to on days off and holidays in Edinburgh.
"I would still consider Edinburgh as home. Carlisle is a place of work for me. There are thousands of people up and down the country who leave their families behind and go to work and then come back home at the weekends," he says.
He says that the initial outlay when selling a house was the most difficult part.
The financial juggling act all feels very different to the case of another father who has just moved cities for his job.
Gareth Bale, now the world's most expensive footballer, moved from Tottenham Hotspur in north London, to Spain's Real Madrid at the start of the week.
His reported £300,000 a week salary, and the adulation of the Real Madrid fans should help him to settle in.
Contract is key
Still, relocating can be stressful, especially with a family. That is why employees have various rights if their employer wants to relocate staff, or the whole business.
The key, as with many employment rights, can be found in a worker's contract.
Jane Amphlett, an employment partner at law firm Howard Kennedy FSI, says: "Your place of work will be set out in your contract of employment, or it should be."
If an employer moves the location of the business, then employees with a "mobility clause" in their contract have to move unless the request is unreasonable.
This clause says that workers have to move within certain limits, and it is a potential breach of contract to refuse. However, it would be unreasonable, for example, to suggest that staff should start working overseas at one day's notice.
The TUC says that it could be discriminatory to select some staff to move, without special allowances, while others stay where they are.
Young man's game?
Employees who do not have a mobility clause in their contract can choose whether or not to relocate, or at least come to an agreement with their employer.
Those who choose not to move would probably find their job is redundant. They should then be offered a redundancy package, assuming they meet the qualifying criteria such as having two years' service.
Those who choose to relocate do not have an automatic right to the costs of relocation, although most good employers do offer a package. Some employment contracts also specify whether these costs will be covered.
There are no solid statistics on the number of employees and employers who relocate.
Various surveys and research suggest that those asked to move to another site tend to be young or middle-aged men. Global businesses are sending some UK workers to the big-hitting economies of Brazil, China or India.
Contractual obligations can be more complicated for those moving overseas. There may be tax and benefit implications as well as issues over the currency in which a salary is paid.
Charities have suggested that those who move tend to link the decision to career progression and families who were given the option often felt pressured to fit in.
Work-life balance
Some employees choose instead to commute long distances to ensure their families - especially those with children of school age - do not have to go through the upheaval of going to live somewhere new.
Most are in non-manual jobs. In today's internet-connected world, surely many should not need to go to work, because work should come to them.
Unwork is an organisation that studies attitudes towards work. Chief executive Philip Ross says that the traditional workplace should be challenged now that people can save information remotely and access it on tablet computers and laptops.
"Companies try to relocate, often to save money. They go to somewhere cheap and they make staff go with them. I think they should challenge that," he says.
"Technology has changed, we do not need to be in the same place to connect and collaborate, so why move people?"
This means working from home could finally become a reality after decades of suggestions that it could take off.
"The drudgery of the daily commute should be pushed and challenged. People need work-life balance," he says.
"For managers there is a cost saving, you do not need to have expensive offices that are half empty."
For those heading out on the road as they move to new premises, that idea may seem a very long way away.