First pay-outs for businesses sold rate-swaps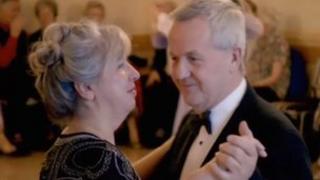 The first small businesses to be mis-sold complicated insurance products by their banks have begun to receive compensation.
So far, 10 firms have agreed to accept payments, averaging £50,000 each.
Up to 25,000 more businesses could be in line for compensation, according to the Financial Conduct Authority (FCA).
The banks said that they were working hard to see that those affected received redress as soon as possible.
A couple who own a hotel in Bournemouth are thought to be among the first to be compensated.
Terri and Stewart Flett will receive £350,000, after taking out one of the insurance products in 2007.
Exit fees
It is thought about 40,000 small businesses were sold the products in the years between 2001 and 2008.
Those affected include vets, care home operators, hauliers and pub owners.
Many who had taken out a loan with their bank were advised to "hedge" against the possibility of interest rates going up.
In return for higher fees, they were told they would not have to pay extra if the Bank of England raised base rates.
In fact, the Bank reduced rates, from 2008 onwards.
As a result, many small firms were faced with paying much more for their loans, or having to find tens of thousands of pounds in exit fees.
The four banks concerned, HSBC, Lloyds, Barclays and Royal Bank of Scotland, made large profits from the products, known as interest rate hedging products (IRHPs).
Financial difficulty
Ten small businesses have already accepted compensation, but the FCA expects this figure to increase rapidly over the coming months.
It said that nearly 2,000 letters offering payments had either been sent out or would go out shortly.
"We want to see redress paid quickly to those who have suffered loss as a result of mis-selling," said Martin Wheatley, the FCA's chief executive.
The banks concerned have taken on 2,800 staff to deal with IRHP mis-selling.
They said that so far they had examined more than five million documents and were prioritising customers in financial difficulty.
Those facing hardship can apply to have their loan repayments suspended while the reviews are completed.
"If any other business is facing financial distress and wants a suspension of payments, they should get in touch with their bank immediately," said Anthony Browne, the chief executive of the British Bankers' Association (BBA).