Thomas Flohr: The high-flying multi-millionaire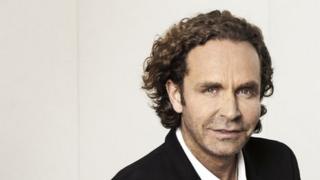 As international, multi-millionaire jetsetters go, Thomas Flohr certainly looks the part.
With his tan, stubble, swept back hair, and jeans and jacket combination, he is the type of man you can picture stepping off a private plane after flying in from somewhere exotic.
It is a pretty apt image because Mr Flohr owns a large fleet of private jets.
The Swiss national is the founder, boss, and 100% owner of VistaJet, the world's fastest-growing airline you have probably never heard of, and most probably can only dream of affording to use.
Founded in 2004, VistaJet now has 35 planes, and is quickly adding to that number.
Such is the demand for its services that earlier this year it signed the biggest deal in business aviation history - a $7.8bn (£4.9bn; 5.87bn euros) order for 56 jets, and options for 86 more, from Canada's Bombardier.
With claimed revenue growth of 26% a year, Mr Flohr highlights three underlying factors behind VistaJet's success - it only uses the newest and most luxurious planes, it will fly to anywhere in the world no matter how remote, and it targets emerging economies such as China and India.
"You have to trust your instincts," he says. "I sensed that the [business jet] market was underserved, and I wanted to challenge the established players. I like a good David versus Goliath fight."
Long-distance jets
For those of us unaccustomed to the rarefied world of private jets, the market is dominated by a handful of American providers who offer businesses the chance to invest in a fractional stake in a plane, which they then share.
In addition, there are a great many smaller providers, who can rent you a plane per journey, with the deal most likely being done via a broker.
Mr Flohr's plan was to create a global brand that businesses, wealthy individuals, or even governments, could simply hire a plane directly from when they wanted it. There would be no complicated fractional deals or brokerages.
"The fractional system only really operates in the US because that is the only country that offers tax breaks for it," says Mr Flohr. "It makes no sense outside of America, and particularly in China.
"Instead they just want to rent a plane, and they want the best possible quality. But if you do this via a broker, you often don't know the level of quality, or otherwise, or age, of the plane that turns up."
So with VistaJet businesses go to it directly. And as its fleet contains Bombardier's long range Global 6,000 planes, VistaJet can fly anywhere in the world.
It also pledges to be able to fly to any airport with a sufficient runway, be it somewhere in the middle of nowhere in Siberia or Sub-Saharan Africa.
"This really sets us apart," says Mr Flohr. "We'll go where our rivals don't want to. If any oil executive needs to go to the back of beyond, we'll get him there.
"With the fractional guys, they don't want their planes to do this because they want them to be readily available for the other part-owners."
'Risky move'
But as Mr Flohr continues with his ambitious growth plans for VistaJet, how does someone without an aviation background get into the private planes business?
After studying business and politics at university in Munich, Germany, he made his fortune working in asset finance in his 20s and 30s.
His job allowed him the use of private planes, and he started to question how the industry operated.
So thinking he could do things better, he bought his first two planes.
Mr Flohr says: "I had two jets and they were paying for themselves, so I went out in 2005 and took the biggest risk of my life - I bought three more aeroplanes. Thankfully I haven't looked back from there."
VistaJet now has 170 pilots and carries out more than 10,000 flights per year, including flying to 136 different airports in Africa.
"We have been greatly helped by the big growth in the emerging economies," says Mr Flohr. "Even just five years ago, Indian businessmen didn't use private planes, but now they do, the same in China. We are there to serve them, and business is very strong, in Russia too. The so called Bric nations (Brazil, Russia, India and China) have helped us greatly."
He adds that VistaJet is also benefiting from a resurgence in Western firms wishing to hire his planes again, as their economies recover.
Constant traveller
Despite Mr Flohr's job seeing him almost constantly travelling the world on VistaJet planes, he does not believe he lives a jet-set life.
"I see all the travel as a necessity - I want to meet with my clients in person," he says.
And so in one average fortnight he flew from his base in Switzerland to China, Russia, the US, Mozambique, the UK and Italy.
When he does get spare time, he likes to race go-karts, spend time with his daughter, and cook meals for friends.
But what advice would he give would-be entrepreneurs?
"Stop looking at social media websites, and instead work out what contribution you can make to the world, and go and do it," he says.
"Find your niche, find what you are good at, and focus on that. And be a good person along the way - if you try to take shortcuts it will just come back and haunt you."