Microsoft-Nokia deal: Analyst reaction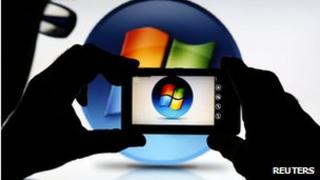 As Microsoft agrees to buy Nokia's mobile phone business for 5.4bn euros ($7.2bn; £4.6bn), analysts have broadly welcomed the deal.
Ian Fogg, head of mobile analysis at IHS Electronics & Media, believes it is "a high risk but high potential reward strategy for Microsoft" as the company looks to speed up the pace of development in mobile.
"The new company has a long road ahead to establish Windows Phone as a viable competitor to Android and Apple's iPhone", he says. "In the second quarter of 2013, Nokia shipped just 7.4 million Windows Phones compared with 31.2 million iPhones and 185 million Android smartphones.
"IHS forecasts that unless Microsoft speeds Windows Phone innovation, in 2017 Windows Phone will comprise just 5% of overall smartphone shipments."
Ben Wood, chief of research at telecoms analyst CCS Insight said: "With mobile now firmly positioned as the world's fastest growing and largest computing platform we see this move as a bold, but entirely necessary gamble by Microsoft. Mobile needs to be a cornerstone of Microsoft's business for future success.
"The failure of Microsoft's platform-only approach over the last 15 years, initially with Windows Mobile and more recently with Windows Phone, has left it with few alternatives given its almost complete reliance on Nokia for Windows Phone devices and the competitive eco-system strength of Google and Apple."
Manoj Menon, managing director of consulting firm Frost & Sullivan, told the BBC: "Clearly the number one priority for the company is to get its mobile strategy right. From a strategy point of view, this deal is the perfect step, The only question is how well they can execute this plan."
Defensive move
But Annette Zimmermann, principal research analyst at Gartner, believes Microsoft bought the vulnerable Nokia before rivals beat them to it.
"Nokia's been in a difficult position for two years," she told the BBC. "So this was a defensive move to prevent all the work they've been doing together for the last two years from being wasted."
Nevertheless she believes the deal could help "ramp up" sales of Windows smartphones, thanks to the efficiencies that should flow from the integration of hardware and software.
Sales of Windows Phones have proved sluggish so far, and Nokia has just a 3% share of the smartphone market
One big question for Nokia is what will happen to its dominant position in the cut-price "feature phone" market.
For example, its basic 1100 model, launched in 2003, went on to sell 250 million units and became the world's most popular consumer electronic device.
"Nokia still has a 50% share of the feature phone market in the Middle East and Africa", says Ms Zimmermann. "But if Microsoft wants to promote its software on smartphones only, it may withdraw from this end of the market altogether."
The deal has provided some good news for Nokia's long-suffering shareholders, with the Finnish company's share price leaping 40% on the news.
Nokia shares have fallen 93% since their 2000 high of 65 euros, although they have recovered some ground over the past year.