Global economic growth still sluggish, says OECD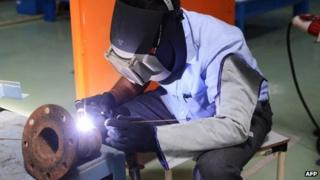 Global growth is set to remain sluggish, a leading economic agency has said, as while the recovery in developed economies has strengthened, many emerging economies have slowed.
The OECD said that activity was expanding in North America, Japan and the UK at "encouraging rates".
But it warned that difficulties in emerging economies continued to drag down global growth.
A sustainable recovery is not firmly established and risks remain, it said.
The Organisation for Economic Cooperation and Development (OECD) said that growth in the second quarter of 2013 in the major advanced economies was stronger than expected.
Overall in 2013, the OECD forecasts US growth of 1.7%, just ahead of Japan, with 1.6% and 1.5% growth in the UK.
It said the US Federal Reserve should gradually reduce the rate of its stimulus programme, while continuing to keep policy interest rates low, in line with existing forward guidance.
The OECD said that while the eurozone was no longer in recession it remained vulnerable, and said many eurozone banks were insufficiently capitalised and burdened by bad loans.
It forecasts that Germany's economy will grow by 0.7% during 2013, and France by just 0.3%. It expects the Italian economy to shrink by 1.8% during the same period.
China's growth rate is set to recover in the second half of 2013, although the pace of growth will not return to previous highs.
The OECD expects it to grow 7.4% this year.
"Growth in China has seemingly already passed the trough and looks set to recover further in the second half of 2013, although the expansion is still expected to be more subdued than in earlier cycles," the OECD in its report.
The organisation also noted the difficulties being experienced in emerging economies, partly caused by fears that the US is to scale back its quantitative easing programme.
As emerging economies have contributed to economic dynamism in recent years, the OECD said, these difficulties means global growth is likely to remain sluggish.