Royal Mail postal workers to vote in strike ballot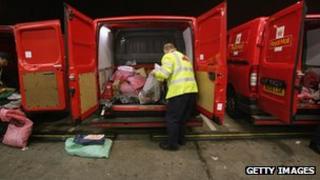 Royal Mail workers are to vote on whether to strike over pay and other issues linked to privatisation plans.
The Communication Workers Union (CWU) said that a vote over future pay, and other aspects of the proposed sell-off, could lead to a strike by 10 October.
This will be the first such ballot for Royal Mail workers since 2009.
Royal Mail said it was "very disappointed" by the move, and the Department for Business said industrial action was "not necessary".
Protection
The CWU said that, if current talks with Royal Mail do not lead to an agreement, a ballot for all Royal Mail and Parcelforce workers in the union would be held from 20 September. The result of the ballot would be announced on 3 October.
Dave Ward, CWU deputy general secretary, said: "We are looking to reach a groundbreaking agreement on terms and conditions that sets unprecedented legally binding protection for workers in the event of a sale, and regardless of who owns the company.
"We want Royal Mail and the government to put protections in place that are both meaningful and lasting".
Privatisation plans have been in development for a number of years, with legislation in 2011 paving the way for a future sale.
In July, Royal Mail proposed a three-year pay agreement for its workforce, including an 8.6% increase in basic pay over three years, which was rejected by the CWU.
In response to the CWU's announcement, Royal Mail said it was "very disappointed" that the CWU had issued a timeline for a ballot on possible industrial action, and that it believed any strike action would be "uncalled for".