University launches online course with TV show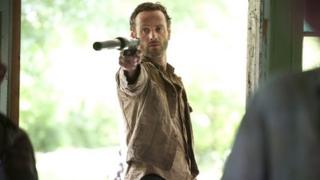 Can zombies be the stuff of serious academic study? And could they be shuffling towards a new type of future for higher education?
In what is being claimed as the biggest ever experiment in "edutainment", a US television company is forming a partnership with a top-ranking Californian university to produce online courses linked to a hit TV show.
This blurring of the digital boundaries between academic study and the entertainment industry will see a course being launched next month based on the post-apocalypse drama series the Walking Dead.
Television shows might have spin-off video games or merchandising, but this drama about surviving disaster and social collapse is now going to have its own university course.
Academics from the University of California, Irvine, who are setting up the online courses, say these will be academically rigorous and tackle serious scientific issues, related to events in the show.
A physicist will look at the "science behind decay"; the public health department will use the series to study questions such as "What can we learn from past epidemics?" and maths lecturers will show how "post-calculus maths can be used to model population and epidemic dynamics".
Showbiz lessons
The show is made by AMC, which also produced cult series such as Mad Men, Breaking Bad and The Killing, and AMC vice-president Theresa Beyer says this showbiz-academic partnership will create a "legitimate educational experience".
She says AMC will be the "first entertainment group to make the foray into the online education arena" and wants the course to "drive a deep, sustained connection with the show".
The TV series has an audience of 10 million and student numbers for the online course are expected to be in the hundreds of thousands. If this experiment proves successful, the online platform provider, Instructure, suggests there could be further TV show and university hybrids.
It's not difficult to imagine an advertising course being built around a series such as Mad Men, suggests Josh Coates, Instructure's chief executive.
This partnership also marks another development in the rapidly-expanding world of MOOCs - the massive open online courses - an acronym sufficiently established to have made it into the Oxford online dictionary last week.
Millions of students have signed up for online courses in the past year, suggesting the scale of demand for higher education.
And millions of students have failed to complete those courses suggesting the scale of the challenge of online learning.
Dumbing down?
This eight-module course will begin in mid-October and will be accessible without charge to anyone with an internet connection.
There will be online tests and discussion groups, but students taking the course will not get any formal qualifications or credits towards a degree, so it's going to be for students who want to follow the course in their own time.
But isn't there a risk of dumbing down? The University of California, Irvine, has Nobel prize-winning researchers, it contributes $4.3bn (£2.77bn; 3.3bn euro) to the local economy, does it want to have zombies on its prospectus?
"When we entered this partnership it was really important to make each of the modules as academically strong as they would be in our classes at UC Irvine," says Melissa Loble, associate dean of distance learning at the university.
"The lessons will be academically rigorous and rich and still have connections to the show."
Joanne Christopherson, social science lecturer, says that it's taking another step forward from how universities already use contemporary media examples.
"In all of my classes I have to bring in current issues to keep it interesting. Not just because they're young adults coming out of high school, but because it's important to make these classic theories relevant to them. What we're doing is using this series as an example through the whole course."
Apocalypse studies
Josh Coates, head of Instructure, which provides the Canvas online platform, says it will present science and social science issues, using the hook of a TV show.
"This is real curriculum about infectious diseases, public health, nutrition, psychology and sociology. The fact that the context is this fictional world of an apocalypse is incidental."
"This is very topical. We have terrorist attacks, we have Katrina, Fukushima, all these things happen in our world today, which create small vignettes of a local apocalypse. This is an opportunity to educate people about the science of these disasters."
Mr Coates says a significant part of this experiment will be to see if it can crack one of the biggest weaknesses of MOOCs, the high drop-out rate. Will the pulling power of television keep people switched on to learning?
"Can we get more students through because it's linked to a TV show they really like?" he says.
He describes the link between the university and the TV industry as the "cross-pollination" that comes with the internet.
"The internet tears down walls of tradition and the isolation of different areas of research and interest," he says.
Personal learning
For the university, it's a shop window putting their brand in front of a global audience. It also allows them to refine the process of putting courses online.
"The first MOOCs had great videos and great quizzes, but didn't help students really interact with one another," says Melissa Loble.
"The next step for MOOCs is to figure how to make them personal without it being overwhelming for the institution trying to deliver that."
These are the type of practical questions that come with the huge numbers of online students.
Dr Christopherson says that scale of the demand for MOOCs has been a "wake-up call" for universities.
But it remains a challenge to provide an online structure that can allow so many students to follow a course without feeling anonymous and disconnected.
William Dutton, professor of internet studies at the University of Oxford, says there also remains a longer term question about the funding model for MOOCs.
And he suggests that universities which have begun to invest in them might become wary at the extent of the drop-out rate.
They might work better as part of a "blended" course, where there is a taught, classroom element as well as online study, he says.
Spoiler alert
Alan Smithers, director of the Centre for Education and Employment Research at the University of Buckingham, also has reservations about the value of TV-related online courses.
Without formal assessment and personal content, he says it remains to be seen how this delivers more than a good television documentary.
"The student must be able to sift the evidence.
"For genuine learning, personal contact really matters," he says.
Prof Smithers says such links with a popular TV show might work as a way of attracting students, but the academic element needs to outweigh the entertainment.
But don't expect the march of the MOOCs to stop any time soon. And Mr Coates says he wants people to look back at the Walking Dead course as a watershed when education and entertainment connected.
With the online course available globally and when different series are being shown at different stages in different countries, this could also be the first university course that has to come with its own spoiler alert.