Premier League clubs spend record £630m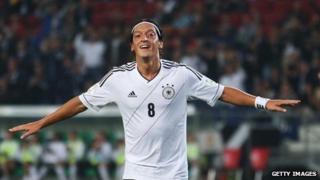 Premier League clubs spent a record £630m in the summer transfer window, according to Deloitte's Sports Business Group.
The previous record of £500m was set in 2008. The transfer window closed at 23:00 BST on Monday.
Among the big signings on Monday was Mesut Ozil who is going from Real Madrid to Arsenal for £42.4m.
Manchester United left it late in the day to sign Marouane Fellaini for £27.5m from Everton.
"The story of this summer transfer window is of new records: a new record for Premier League spending as well as a new world transfer record fee," said Dan Jones at Deloitte.
The record transfer fee was for Gareth Bale, who was sold to Real Madrid by Tottenham Hotspur for £85m.
Premier League clubs are flush with cash from their latest domestic three-year TV deal.
BT has spent £738m over three years for the rights to 38 live matches a season, while Sky paid £2.3bn for 116 matches a season.
"Testament to the impact this is having is in the scale of Premier League gross spending, as well as the gulf in net spending between the Premier League and other European leagues," said Alex Thorpe at Deloitte.
"Whereas many clubs around Europe have been reliant on selling players in order to spend, the financial advantages Premier League clubs enjoy has enabled net spending of £400m across the league."
Although they have not matched the Premier League, spending in other major European leagues has also been up.
La Liga and Serie A each had gross spending of £335m, followed by Ligue 1 in France with £315m and Germany's Bundesliga with £230m.