Eurozone August factory orders best since May 2011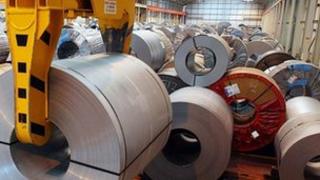 August orders for goods made in the eurozone came in at their fastest rate since May 2011, leaving factories unable to keep up with demand, according to a survey.
As a result, manufacturers in the 17-country eurozone had a backlog of orders.
The Markit Manufacturing Purchasing Managers' Index (PMI) stood at 51.4 in August, up from 50.3 in July.
Any reading of above 50 suggests expansion.
The figures added to better news from the UK and China earlier on Monday.
In the UK, the industry body the EEF said a survey of almost 300 companies showed an improvement in the domestic market, which has often lagged behind exports.
Official PMI figures in China showed manufacturing activity in August rose to 51 from 50.3 in July, a 16-month high, allaying some fears of a sharp slowdown in its economy.
Markit said that only France, out of the 17 countries that use the euro, failed to enjoy improved conditions.
The organisation's chief economist, Chris Williamson, said: "Although gains are still only modest, companies reported the strongest improvement in business conditions for just over two years, with a pick-up in new orders growth suggesting the upturn will be sustained into September."
Jobs decline
Recent official figures released for the second quarter of the year showed the eurozone emerged from a recession that had lasted for one-and-a-half years.
Markit's survey suggested the economy would continue to improve, with its index for new orders standing at 53.3 in August, compared with 50.8 in July,
But the survey showed this was not feeding through to higher employment, as manufacturers reported lower employee numbers for the 19th month in a row.
Chris Williamson said it could be some time before employment numbers began to rise again.
"The fact that companies remain reluctant to take on staff - due to the need to cut costs to boost competitiveness and offset rising oil prices - suggests that there's a long way to go before the recovery feeds through to a meaningful job market improvement," he added.