UK manufacturing 'booming again'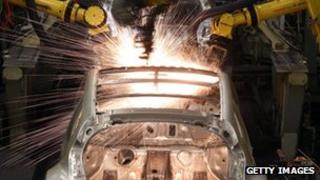 UK manufacturing is "booming again", according to a survey, with the sector seeing its strongest growth in activity for two and a half years in August.
The latest Markit/CIPS purchasing managers' index (PMI) for the sector jumped to 57.2. A figure above 50 indicates expansion.
It marks the fifth consecutive month of expansion and is the highest reading since February 2011.
Output and new orders rose at their fastest rate for 19 years.
"The UK's factories are booming again," said Rob Dobson, senior economist at Markit.
"Orders and output are growing at the fastest rates for almost 20 years, as rising demand from domestic customers is being accompanied by a return to growth of our largest trading partner, the eurozone."
The only weak point in the outlook was a "marked upsurge" in cost inflation at manufacturers. The month-on-month leap in input prices was the second biggest in the survey's history, as commodity prices continued to increase.
In a separate survey, the EEF manufacturers' organisation said that it had ungraded its forecasts for manufacturing for 2014.
Commenting on the PMI data, Lee Hopley, EEF chief economist, said: "Taken together with improving indicators across most parts of Europe the conditions are right for manufacturers to see continued expansion in the remainder of this year with growth accelerating in 2014."
'Recovery with legs'
Analysts welcomed the figures, adding that the data supported growing optimism over prospects for the economy as a whole.
Rob Wood, chief UK economist at Berenberg Bank said: "This is a consumer led recovery with legs. The improving export picture coming through in the latest surveys is the icing on the cake."
He added that the strong growth may pressure the Bank of England into a faster-than-expected rise in interest rates.
The economy appeared to be "running way ahead" of the Bank's forecasts, Mr Wood said, and this "should strengthen the view of those MPC members that thought a first rate hike in late 2015 would be reasonable".
David Tinsley, UK economist at BNP Paribas, agreed that the domestic market "appears to be the primary focus of the strength." However, he cautioned that the sharp rise in input costs, driven by the price of oil, had the potential to cause concern.
"For now this is not really being reflected in output costs, with the index here remaining modest. But this rise in input costs is perhaps one of the first warning signs that the UK accelerating output growth is seeing a warming in inflationary pressure."