Agency workers not being paid equally, TUC says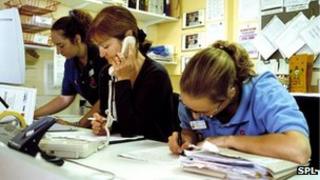 The UK is failing to implement European rules designed to give equal pay to agency workers, according to the trade union umbrella body, the TUC.
Agency workers who have been with a company for more than 12 weeks should be entitled to the same pay as permanent staff.
The TUC is complaining to the European Commission, saying that agency workers are still being paid less.
It comes amid a row about workers on so-called zero hours contracts.
The TUC claimed the government's implementation of the Temporary Agency Workers Directive, which came into effect two years ago, was flawed.
It argued an exemption meant that if a worker was directly employed by an agency, the company did not have to pay that worker the same rate of pay as a staffer - although they do get paid for at least four weeks between assignments.
The TUC said there had been a big rise in these types of contracts, with more than one in six agency workers now on them, particularly in low-paid, low-skilled work.
'Appalled'
The TUC wants these contracts banned and has now asked the European Commission to investigate the problem.
General secretary Frances O'Grady said: "The recent agency worker regulations have improved working conditions for many agency workers without causing job losses.
"However, the regulations are being undermined by a growing number of employers who are putting staff on contracts that deny them equal pay.
"Most people would be appalled if the person working next to them was paid more for doing the same job, and yet agency workers on these contracts can still be treated unfairly," he added.
The government said it would listen to concerns.
"We worked closely with both employers and employee organisations to successfully implement the Agency Workers Regulations," the Department for Business, Innovation and Skills told the BBC.
"We will of course consider carefully any information the TUC presents to the European Commission."
The exemption has been called "the Swedish derogation" because that is where the contracts originate, though in Sweden, workers still receive equal pay once in post and 90% of normal pay between assignments.
Kevin Green, chief executive of the Recruitment and Employment Confederation, told the BBC that the issue of agency workers had been consulted upon, and the issue was not a loophole but a "legitimate part of the legislation".
"Agency workers have benefited since these rules came in," he said. "There are lots of things our members were unhappy with in these regulations, there was clearly a compromise made.
"The key thing is to get people into work, to make sure you're creating jobs, if you start unpicking regulations because you decide you don't like them, then you risk creating uncertainty, undermining employers confidence and end up with fewer people in work."
Zero hours
Zero-hours contracts, or casual contracts, allow employers to hire staff with no guarantee of work.
Employers say zero-hours contracts allow them the flexibility to take on staff in response to fluctuating demand for their services, in sectors such as tourism and hospitality.
Some employers have been accused of rolling over temporary employment in short-term amounts to get around having to pay workers full-time pay and benefits.
Figures from the Office for National Statistics show that 250,000 UK workers are on zero-hours contracts - around 1% of the UK workforce - though the Chartered Institute of Personnel and Development thinks the figure is closer to one million.
The government has said it is concerned about the potential abuse of zero-hours contracts by some employers and will decide in September whether to hold a formal consultation on possible changes to employment laws covering them.