Why reporting insurance 'incidents' can cost you dearly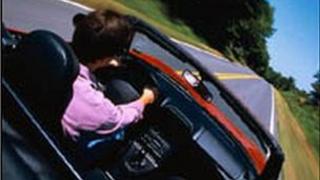 Motorists who call their insurer only to inquire about making or reporting a minor claim can find the information is recorded and used against them when it comes to renewing cover.
It is done using a little-known database which was set up to prevent fraud but which can be used by insurers in some cases to increase premiums paid by drivers who never make a claim but who do own up to "incidents" with their vehicle.
Even if motorists move their policy to a different insurer, the incident record - which could relate to something like a small theft or bump - follows them around.
Hire costs
Kevin England had his car stolen, after thieves used an 8ft (2.5m) pole to fish his car keys through his letter box.
He informed his insurer - LV - and it arranged for him to have a hire car, while it looked into the claim.
After just two days, Kevin, who lives in Surrey, was delighted when his car was recovered without damage by the police.
He asked LV whether if he paid himself for the car hire his premium would be affected by the theft, and he says he was told it would not be.
He told BBC Radio 4's Money Box programme: "They told me if I paid for my loan car then it wasn't a claim and it wouldn't affect my premium in any way."
But at renewal, Kevin discovered that the theft of his car had been recorded as an "incident" - a report of any event which could result in a claim.
That did not affect his no claims bonus, because it was not formally listed as a claim but Kevin says his premium went up by £100.
"The lady said you had an incident, that means you're more likely to have another incident so your insurance premium has gone up," he told Money Box.
Next quote
Interpreting the word "incident" can be a problem for customers at renewal.
Insurers have traditionally asked customers to state whether they have had any recent accidents, losses or claims, and say not disclosing them could invalidate a policy.
Money Box asked six major car insurers whether they would put up a premium as a result of being told of an incident, even if a claim was not proceeded with and they did not pay out any money.
Both esure and Admiral said it was likely to affect the driver's next insurance quote.
LV -Kevin's insurer - admits it used to use incidents as a rating factor, and so it says Kevin's renewal premium may have gone up as a result.
But the company says it has recently changed its system so this would not happen when premiums are now calculated.
Aviva said it would not, whilst AXA and Direct Line said it would depend on the circumstances.
Data access request
And not only does your insurer have a list of incidents to interpret as they wish, they are also listed on a database shared by 60 insurance companies called CUE.
Members of the public who wish to access it have to pay £10 and put in a data access request.
Malcolm Tarling from the Association of British Insurers says his members have good reason for recording incidents: "If you've had a couple of break-ins to your car for which you don't wish to claim, this may indicate that the crime risk is getting worse in your area and that is something that insurers have to take into account."
However, he admitted his members should warn customers of the possible consequences of reporting incidents.
"When you report a loss to your insurer and you say at this stage I don't want to claim, then we would expect the insurer to make it clear the impact that could have," he said.
Money Box is broadcast on Saturdays at 12:00 GMT on BBC Radio 4 and repeated on Sundays at 21:00 GMT.
You can listen again via the BBC iPlayer or by downloading Money Box podcast.