School uniform costs 'coming down'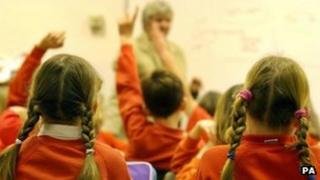 The end of August means it is back-to-school time for UK school children.
From replacing uniforms they've grown out of to new books, it can all make it an expensive time to be a parent.
Newspapers have been full of alarmist reports that this year it's more costly than ever to fill a schoolbag with the required items a child needs for the coming year.
But is it true?
Tech costs
"I think uniforms have actually got a bit cheaper," says mother of two Johanna Van Otterjik, of Richmond, south-west London.
"Generally speaking, I think it's got a bit easier."
Her anecdotal experience appears to be backed by the numbers.
According to a study commissioned by John Lewis, school uniforms cost the average family £116.50 a year - adjusted for inflation - in the 1960s.
In the 1980s, again adjusted for inflation, that rose to £135.30. For the 2010s, it has dropped back to £100.80.
So if it is not clothes that newspapers complain make kitting out your children more expensive, what is it?
A scroll through the numbers shows that most other items - from calculators to school bags - are all cheaper relative to incomes than they have ever been.
There is just one set of items that seems to be skewing the modern school bag and making its contents very expensive - technology.
"We are seeing items like e-readers, tablet computers and mobile phones appear in the schoolbag for the first time," says Matt Leeser, head of technology buying at John Lewis.
"You can fit a lot of books in an electronic reading device."
Non-branded
That may be good for taking the weight out of a child's backpack but it also makes parents' bank accounts lighter too.
"Parents should take the time to consider the purchases they are going to make," says Mr Leeser. "They need to consider what technology products are right for them and fit in with whatever else they own in the home."
Mr Leeser also worries that parents going into stores for the first time may be faced with a bewildering array of devices on offer.
"Talk to the schools that the children go to. Make sure the technology they buy is right for the schools and how they plan to teach."
But, if you're on a tight budget, what can you do to keep costs down on the non-technology items your child needs?
"It's a really good idea to make a plan and stick to it so that when you're going around the shops it's easier to be focused on what you buy," says Anna Foster, head of services at the Personal Finance Education Group.
"Also, it's a good idea to see whether your school will allow you to buy non-branded uniforms from stores and then maybe sew or iron a school badge on to them."
So, learning a few easy financial tricks may help you send children back to their lessons without the pain of breaking the bank.