Serco shares fall as investigation looms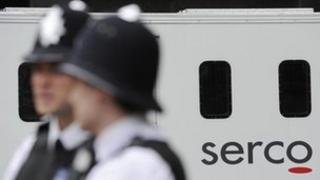 Shares in outsourcing giant Serco have fallen sharply as the company faces a possible block on bidding for new government contracts.
Serco shares tumbled by 17% on Thursday morning, wiping some £500m from its value, before recovering slightly.
On Wednesday, the justice ministry asked police to investigate possible fraudulent behaviour by some Serco staff on a prisoner escorting contract.
Serco gets about 45% of its revenue from such public sector contracts.
The company also announced its half-year results on Thursday morning, with pre-tax profits increasing 11% to £127m. Revenues were up 12% to £2.5bn.
Serco chief executive Christopher Hyman said the company would "put right any issues that arise" from the government's investigations into its operations.
The fraud allegations relate to a £285m prison escorting contract with the Ministry of Justice.
The company said that some prisoners had been recorded as having been delivered ready for court when they were not.
Justice Secretary Chris Grayling said on Wednesday: "It's become very clear there has been a culture within parts of Serco that has been totally unacceptable, and actions which need to be investigated by the police."
The latest scandal follows an earlier outcry in July of this year, when Serco and fellow outsourcing company G4S were accused of overcharging while monitoring offenders through electronic tagging. This led to an audit of the firms by the government, which raised the fresh allegations.