German unemployment edges higher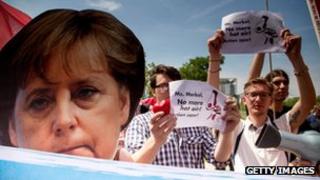 The German jobless total rose slightly in August on the previous month, partly for seasonal reasons.
But Labour Office data showed unemployment close to its lowest figure since the country reunified in 1990.
Joblessness rose by 7,000 to 2.943 million in seasonally adjusted terms in August, the first month-on-month increase since May.
The data will be welcomed by Chancellor Angela Merkel, looking to win a third term in elections on 22 September.
"We were surprised by the rise in the seasonally-adjusted figure. Still, this is not a sign for a change of trend," said Eckart Tuchtfeld at Commerzbank.
"It can take some months before the better mood in top management will feed through to additional jobs."
And Rainer Sartoris of HSBC Trinkaus said: "The German economy is recovering. That will feed through to the labour market with delay. There's scope for a small autumn revival."
German's economy only narrowly avoided recession at the start of the year, but grew at its strongest rate in more than a year in the second quarter.
The non-adjusted number of people out of a work remained below three million for the fourth month in a row.