Qantas back to profit as international losses shrink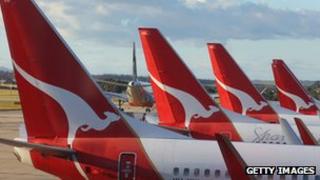 Qantas has swung back to profit as its alliance with Emirates helped narrow losses at its international operations.
It made a net profit of A$6m ($5.4m; £3.5m) in the year ending 30 June, reversing a loss of A$244m a year ago.
Qantas' earnings were also lifted by the A$125m settlement it received from Boeing after it cancelled 787 orders.
The airline said that losses at its international division, which has been a key area of concern in recent years, halved from a year earlier.
Alan Joyce, chief executive of the airline, said the alliance with Emirates, which was announced in September last year, had helped it boost bookings to key markets.
"The Qantas-Emirates partnership gives the group a strengthened position on routes to Europe, the Middle East and North Africa, via the global hub of Dubai," he said in a statement.
"Bookings have been very positive, running at about twice the level of Qantas' previous code-share arrangements for flights to Europe."
Mr Joyce added that the airline is on track to achieve its target of making international operations profitable in the 2015 financial year.
Qantas shares jumped more than 9% in Sydney after the earnings release.
Tough market
However profits at the carrier's domestic operations - the biggest contributor to its growth - declined during the period.
The division made a profit of A$365m, down 21% from a year earlier.
The decline comes as the airline, which has the biggest share of the Australian domestic market, faces increased competition.
Some analysts suggested that the slowdown in growth in the country's mining sector had also impacted the earnings.
They said that airlines had benefited from contracts with mining firms helping workers fly in and out of remote locations and from services to regional destinations.
"A lot of those customers have been very profitable because they've been paying big prices on tickets to fly to these regional and sub-regional areas," said Akshay Chopra, an analyst at Karara Capital in Melbourne.
"As some of those slow, that's clearly going to have an impact."
However, Mr Joyce said that "supporting the resources market and regional Australia remains a priority" for the airline.
But he added that despite the return to profit the market continued to remain "very tough".
The airline said it was not providing a profit guidance at this time "due to the high degree of volatility and uncertainty in the competitive environment, global economic conditions, fuel prices and foreign exchange rates".