G4S unveils plan to issue new shares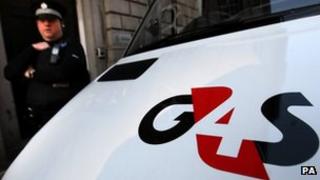 Global security group G4S has announced plans to issue new shares and sell off some divisions as it struggles to cut debt and overcome a series of setbacks.
G4S said it would offer 140.9 million new shares, up to 9.99% of its current share capital, to existing shareholders and new institutional investors.
It will also sell its Canadian Cash and Colombia Data businesses for £100m.
In July, an audit found G4S had overcharged for the electronic tagging of criminals in England and Wales.
The firm's reputation had already suffered after it failed to provide enough security guards for the London 2012 Olympics.
In February this year, it announced a £70m loss on the Olympics contract, as well as other costs of £11m "relating to charitable donations and external fees" and £7m relating to sponsorship costs.
At the end of May, chief executive Nick Buckles stepped down and left the company, to be replaced by chief financial officer Ashley Almanza.