Competition Commission: Private patients pay too much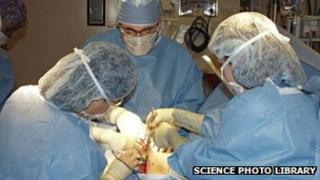 Most patients in UK private hospitals are paying more than they should for treatment because of a lack of local competition, an inquiry has found.
More than 100 private hospitals around the country are in areas with little rival healthcare provision, says the Competition Commission (CC).
Many of these hospitals are owned by three major groups, the CC said.
It said the buying power of health insurance firms did not offset the hospitals' strong position.
About 80% of private patients fund their treatment through medical insurance, which is often paid for by their employers.
Although prices charged by operators to insurers are set nationally, the commission said it believed that the lack of local choice pushed up premiums for all patients, because insurers had no option but to use the local hospital.
"The lack of competition in the healthcare market at a local level means that most private patients are paying more than they should, either for private medical insurance or for self-funded treatment," said the commission's chairman, Roger Witcomb.
"The lack of available and comparable information, often less than is available to NHS patients, also makes informed choices - which could help drive competition - for these patients difficult."
'Market power'
Hospital groups BMI, Spire and HCA had been "earning returns substantially and persistently in excess of the cost of capital", the commission said.
The two biggest health insurance firms, Bupa and AXA PPP, had achieved "significantly lower prices than the smaller insurers" and had "some countervailing buyer power, Bupa more than AXA PPP".
"However, no insurer has countervailing buyer power that can fully offset the market power of BMI, Spire and HCA," the commission's provisional findings said.
The commission recommended moves to make more information available about the quality of hospitals' services and the level of fees charged by consultants.
It also suggested that operators owning a cluster of hospitals in one area should have to sell off some of them.
Responding to the commission, BMI said its findings were "based on flawed analyses of the reality of providing high quality private healthcare".
"We reject absolutely any assertion that BMI Healthcare and its hospitals exercise market power or that we make excess profits at the expense of patients.
"The vast majority of BMI's 69 facilities, in a UK market with over 500 rival facilities, face very significant local competition from other private hospitals and, increasingly, from the NHS."
Spire chief executive Rob Roger said the findings were "based on an unrealistic assessment of the markets in which we operate", while HCA said it was "disappointed that quality of clinical care and investment in innovation seems to have been ignored by the Competition Commission".
For its part, Bupa welcomed the findings as "good news for patients".
Managing director Damien Marmion said: "Millions of people with health insurance rightly expect high-quality healthcare for an affordable price.
"By tackling the lack of competition that has damaged the sector for too long, the commission has understood the need for strong action and has put patients first."