Ex-JP Morgan trader arrested in Spain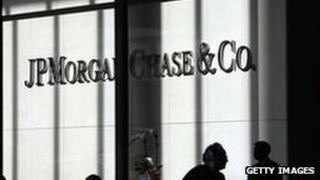 Former JPMorgan employee Javier Martin-Artajo has been arrested by Spanish police in connection with the "London Whale" trading scandal at the bank.
The 49-year-old is wanted in the US for allegedly altering bank records to hide $6.2bn in trading losses.
A Spanish police statement said he was arrested in Madrid after he was located and asked to turn himself in.
Spain's High Court, which is usually responsible for deciding extradition requests, has taken on his case,
American prosecutors have filed criminal charges against Mr Martin-Artajo and fellow ex-JPMorgan trader, Julien Grout.
The pair are alleged to have marked up the market value of an investment portfolio to hide its plummeting value. The shortfall has been attributed to Bruno Iksil, a trader who became known as the "London Whale".
The duo are accused of keeping false records on the trades and committing wire fraud, charges they both deny.
The US Department of Justice claims the two two were responsible for hiding more than $660m (£425m) in losses.
Mr Iksil has not been charged and is co-operating with the authorities.