Markets hit as Syria fears spark shares sell-off and oil price rise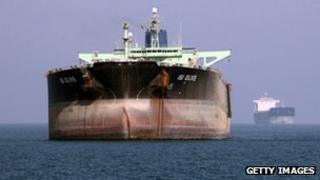 Oil prices surged and shares fell on Wall Street amid growing fears of a military strike against Syria.
Brent crude hit a six-month high, while gold rallied as investors moved into the safe-haven commodity.
The Dow Jones fell 1.1% to 14,776.13, a two-month low.
Although Syria is not a significant oil producer, there are fears for the stability of the wider Middle East, which produces about a third of the world's oil.
"People worry about this becoming a worst-case scenario and turning into a regional conflict,'" said Bill Stone, chief investment strategist at PNC Asset Management.
Markets in the US were down across the board. The Nasdaq fell 79.05 points to 3,578.52 and the S&P 500 closed 26.30 points lower at 1,630.48.
As well as the rise in Brent crude, the price of US crude jumped $3.09 to close at $109.01 a barrel.
Gold - traditionally seen as a haven in times of uncertainty - rose $27 to $1,420 an ounce.
The broad stock sell off in the US mirrored earlier falls in European markets.
Germany's Dax and the French Cac 40 indexes ended down about 2.5%. In London, the FTSE 100 index closed down by 0.8%.
"This is the largest geo-political risk since the start of the Iraq war," said Mike O'Rourke, chief market strategist at US-based Jones Trading.
"I am not saying it will escalate to that point, but this war of words with Russia is the first time the US is pitted against another global [power] in a long time. That creates an uncertainty this market is not accustomed to."
Supply woes
The Middle East contains some of the world's biggest oil producers, along with some important shipping routes.
Even before the latest developments in Syria, analysts were forecasting higher oil prices, partly because of supply disruptions.
Libya, one of the Arab world's biggest oil producers, has seen its production drop by nearly 60%, hit by strikes and security concerns.
Goldman Sachs raised its short-term forecast for the oil price to $115 a barrel.
US President Barack Obama is due to outline future US action on Syria in the coming days.
The US, UK and other countries hold the regime of Syrian President Bashar al-Assad responsible for a large-scale chemical weapons attack in outlying areas of Damascus last week.