Mobile banking risks revealed by FCA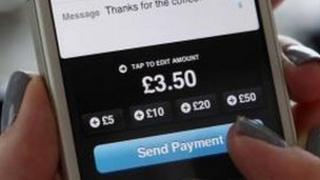 Fraud and mistakes on fiddly keypads could create problems for people who use banking services on their mobile phones, a regulator has said.
Consumers transferring money should be careful to enter correct details on the smaller keypads, the Financial Conduct Authority (FCA) said.
They might also be using mobile banking late at night, which could affect their concentration when moving funds.
The FCA is studying the potential risks to customers of mobile banking.
The review is looking into a sector that involves all sorts of payments to individuals and firms using mobile phones, tablet computers or other handheld devices.
Mobile banking also involves apps that allow customers to check their account balance, view statements, and check the latest activity on their account.
About one in five UK adults have already used their phone to make a payment, with one in four using it to check their bank balance.
'Exciting development'
The FCA will publish a full report into mobile banking in early 2014. However, its early findings are aimed at giving guidance to providers, and explaining the potential risks to consumers.
It found that there were concerns about fraud, with thieves attempting to place malicious software or viruses onto devices to access people's accounts.
Accounts could be hit by problems with IT systems. The FCA also said that there could be errors made by consumers who were not familiar with the new technology.
"Mobile banking is an exciting development in financial services, with increasing numbers of consumers attracted to the convenience of banking on the move," said Clive Adamson, director of supervision at the FCA.
"With the market growing, now is the right time for us to take stock and, as part of the FCA's forward looking approach, to ensure that consumers are appropriately protected."