Post Office staff in bank holiday strikes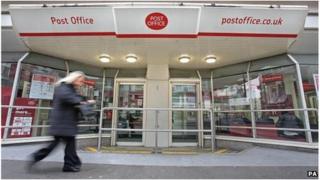 Staff at the UK's 372 Crown post offices have begun fresh strikes in a dispute about closures, jobs and pay.
Workers across the UK voted to strike on Saturday, and they will walk out again on Monday in Scotland and Tuesday in England, Wales and Northern Ireland.
Union bosses claim closures would result in hundreds of job losses but Post Office said they were necessary to halt massive losses in the network.
The strikes are the latest action in a five-month dispute.
Up to 4,000 Crown post office staff will be on strike for a total of two full days over the bank holiday, meaning most will be closed.
'Prolonged' action
Crown post offices are the biggest branches in larger towns and cities which make up 3% of the entire Post Office network, and handle about a fifth of its customers.
They currently make a loss of £37m a year.
The Communication Workers Union (CWU) said plans to franchise or close dozens of Crown offices would result in the loss of up to 1,500 jobs, and it also claimed staff were being forced to accept a three-year pay freeze.
The Post Office said the Crown network must be brought into profit through investment and by franchising 70 branches with retail partners.
CWU deputy general secretary Dave Ward said: "This is the first time we have announced two days of strikes at the same time and the first time we have announced back-to-back days of strike action.
"Crown post office workers do not agree with management's slash-and-burn approach and are prepared to take prolonged industrial action to defend jobs and services and win a fair pay rise."
CWU assistant general secretary Andy Furey said the offices were "part of the fabric of society" and accused Post Office managers of paying executives too much.
No settlement
Post Office said it was "extremely disappointed" at the union's decision.
Network and sales director Kevin Gilliland said: "This action can only cause disruption to customers, cost our people money and place further pressure on the Crown network.
"We must continue with our plans to turn around the Crown network to ensure we keep these branches on High Streets and in city centres across the UK."
As yet talks between both parties have been unproductive, and the CWU has warned that if a settlement cannot be reached soon the strikes could continue until Christmas.
The action will be the 10th and 11th strike days in a dispute going back five months. Staff voted by nine to one (88%) in favour of the stoppages.