Selling Serbia's economy to foreign investors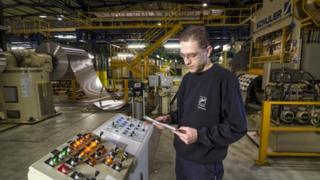 David Banjai raises his voice above the din of thousands of drinks cans rattling their way through the machines in the factory he runs on the outskirts of Belgrade.
"In all the other countries where we operate, nobody knows who we are," he says, "here in Serbia, we're a household name."
The company is Ball Packaging Europe - and the statement is almost certainly true.
Around the world it operates quietly, behind the scenes - making cans for the likes of Coca-Cola, Pepsi and Heineken to fill with their drinks.
But in Serbia, Ball Packaging is one of the largest foreign direct investment projects.
That automatically makes it big news for a country which lost much of its own industry in the 1990s, due to war, international embargoes and the break-up of Yugoslavia.
Lagging behind
Ball came here in 2005 - and its director of Serbian operations, David Banjai, says the company has not looked back.
"It's a country with immense opportunities, a market that can only grow, and people who are keen to succeed - people who are ready to transform themselves.
"I can only see positive things here - I'm wondering why other companies are not coming."
A large part of the answer is that the country has a terrible image problem.
Mention Serbia, and many people cannot help but think of the disastrous, autocratic Milosevic government of the 1990s - and the conflicts in which it played a part.
Hyperinflation, corruption and political repression may be mostly consigned to the past - but they are tough stains to remove from the country's reputation.
And even though things have changed over the past decade, Serbia lags behind some of its neighbours in certain key respects.
Keeping talent
First Deputy Prime Minister Aleksandar Vucic - the leader of the largest party in the current government - says more has to be done to attract investors.
"If you need to get, let's say, a building permit, today you'll have to wait - it's an idiom in Serbia - for decades. I hope that we will be able to change that to less than a month."
"We're very keen to get more know-how from western society and attract more investors - that's the main aim of this government.
"If we don't do something regarding the rule of law or many other changes in different social spheres, we won't be successful in the future."
It seems the current government is making significant progress towards a transformation.
It has agreed membership talks with the European Union - and made waves with an anti-corruption campaign which has targeted some of Serbia's richest people.
On the international front, a public relations agency has been engaged to present the new face of the country.
But perhaps Serbia's biggest challenge may be keeping hold of its own most talented people.
Youth unemployment is running at around 50%, while those who do find work earn, on average, around 400 euros a month.
Yet education levels are high and English is widely spoken. So, understandably, many young Serbians prefer to try their luck abroad.
Revival needed
Some do come back, however, and start up their own businesses.
The Serbian branch of Microsoft came about in this way - and has tapped into the local programming talent to develop elements of the company's Word, Microsoft Cloud and Windows Phone applications.
Microsoft's Milan Stojic says the country needs more such projects to satisfy local ambitions.
"Software development could be one of the things that Serbia is exporting. My take is that we as Serbian people are motivated to get a better standard of living.
"Many people are motivated to go abroad and work on interesting projects there.
"If you bring those projects back to Serbia, perhaps people will be even more motivated."
Serbia certainly has plenty going for it - a strategic location in south-east Europe, free-trade agreements with both Russia and the EU and plenty of talented people available at relatively low cost.
For the moment, a major obstacle to investment appears to be the negative image hanging over from the Milosevic era.
But if the government's new focus on EU membership can help international businesses see beyond that, it could help to bring about a much-needed economic revival.