BHP Billiton trims bonuses of top executives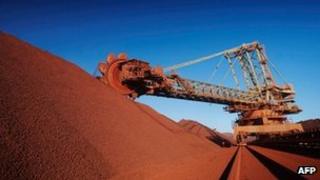 The world's largest mining firm, BHP Billiton, has cut the long-term bonuses of its chief executive and management committee by 35%.
The firm said the payouts had been cut because the return to shareholders had dipped in the five years to June 2013.
Earlier this week, the firm reported a 30% fall in full-year profits.
BHP, along with other mining firms, has been hurt by a fall in commodity prices amid a decline in demand from key markets such as China.
According to the company's five-year incentive plan, BHP had to deliver a shareholder return that exceeded a group of peer companies by an average of 5.5% for the five years to 30 June.
The chief executive and the management committee would have been entitled to a full bonus if that target was achieved.
BHP's return fell by 9.4% during the period, but that was much better than the 44% decline that its rivals saw - which meant that it had outperformed its peers.
The company said that while it "recognized that total shareholder return performance was delivered in a difficult business environment, it also felt that more closely aligning the experience of shareholders and executives was important".
The bonuses also "reflect a more modest approach to remuneration befitting the times", it added.
Chief executive Andrew Mackenzie gave up shares worth £941,000 ($1.47m). Mr Mackenzie was awarded shares worth £4.6m after the cuts.
BHP has already embarked on a massive cost cutting programme. It said it had cut operating costs by $2.7bn over the 12 months to 30 June, when it announced its full-year results earlier this week.