Furniture stores used fake prices, says OFT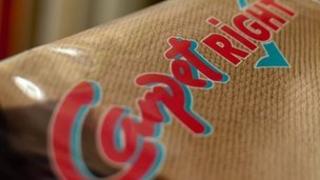 Six High Street furniture and carpet retailers have been accused of misleading their customers with fake prices.
The Office of Fair Trading (OFT) said the stores had all advertised price cuts which were not genuine.
In particular, they advertised reductions from previously higher prices, which tricked customers into thinking they were getting a bargain.
Carpetright and the ScS chain are among the six being investigated.
During its inquiries, the OFT said it found systematic examples of inflated "reference pricing".
That is where a retailer claims the price "was" £500, for example, and is "now" £300.
But the OFT said that in some cases, the stores under investigation had not sold a single product at the previous higher price.
On average, it found that 95% of sales were at the lower, or "now" price, suggesting the original prices were not genuine.
It also said the problem was "endemic" within the industry.
Carpetright said it would co-operate fully with the OFT, but insisted there was no suggestion that it had broken competition law.
Fines
The OFT's investigation revealed that high reference prices can persuade people to buy goods when otherwise they would not.
"Reference pricing can mislead consumers into thinking the item they have bought is of higher value and quality," said Gaucho Rasmussen of the OFT.
It also puts consumers under pressure to buy immediately, and stops them hunting for better deals elsewhere.
"Buying an item immediately means they do not get the chance to search the market for the real best deals," said Mr Rasmussen.
The OFT has ordered the six to stop the practice of misleading pricing.
If they continue the habit, the OFT has the power to fine them up to 30% of their relevant turnover.
Consumers shopping this coming weekend are being advised to ask the shops how long reference prices were used for and what percentage of sales were achieved at the higher price.
'Genuine prices'
Earlier this week, Tesco was fined £300,000 for misleading customers over what it claimed were "half-price" strawberries.
The higher prices that the offer referred to, the "reference prices", had been available for just two weeks.
However, the lower price was available over several months.
Under the pricing practices guide, administered by the Department of Business, Innovation and Skills, the length of the new lower price sale should not be longer than the old higher price was available for.
The same guidelines also stipulate that "a previous price used as a reference price to make a price comparison should be a genuine retail price".
Under the Consumer Protection from Unfair Trading Regulations (CPRs) 2008, it is illegal to indulge in misleading or aggressive advertising.