X Factor parent RTL sees profits surge despite ad falls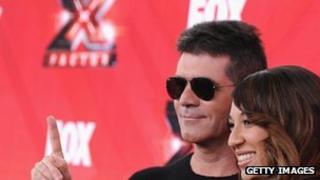 German broadcasting giant RTL Group, parent company of the X Factor talent show, has seen profits surge despite falls in advertising revenue.
Revenues from advertising declined in all of its core markets except Germany.
RTL operates 53 TV channels and 28 radio stations, in 10 countries, and is Europe's largest entertainment broadcaster.
Net profits for the first half of 2013 rose by 41% to 467m euros (£399m), from the same period last year.
RTL intends to pay an extraordinary interim dividend of 2.5 euros a share in September.
In a joint statement, co-chief executives Anke Schaferkordt and Guillaume de Posch cited a tough economic environment, as revenues dipped 1.3% to 2.78bn euros for the first six months of this year.
However, they emphasised the "resilience of our diversified portfolio".
They added that an increased digital presence was a core part of the company's forward strategy, and that the group was on track in its aim to attract 15 billion online video views for 2013.
RTL's share price rose more than 3% following the results.
In addition to the X Factor, the group also produces franchises such as Got Talent and Idol through its Freemantle Media company. Its well-known programme The Price is Right was launched in 1956 and is one of the longest-running game shows on US television.