Hewlett-Packard says revenue growth next year 'unlikely'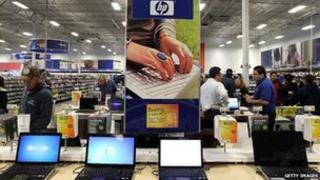 Meg Whitman, the chief executive of Hewlett-Packard, has warned that the firm is "unlikely" to see revenue growth next year.
Her comments came as the firm reported a 8% decline in revenue for the quarter ending 31 July, from a year ago.
HP has struggled amid falling global PC sales and rising competition. It was displaced by China's Lenovo as the world's top PC maker last year.
The growth warning saw HP shares fall nearly 6% in after-hours trading.
"What has changed about 2014's outlook is a couple of things - Enterprise Group's performance especially during the quarter," Ms Whitman told analysts during a conference call after the results.
"Weak execution has amplified the market challenges we know exist. It's unlikely... that we'll see the growth in 2014 that I had hoped," she added.
HP reported a net profit of $1.4bn (£890m) for the quarter, reversing a loss of $8.9bn during the same period last year.
The massive loss last year occurred as the firm wrote down the value of some assets, mostly related to its purchase of Electronic Data Systems, which it bought in 2008.
'More challenging'
Ms Whitman, who took charge of the firm in late 2011, had previously said that it was possible for the company to see its revenues grow next year.
However, global PC sales have been declining, as customers continue to switch to smartphones and tablet computers.
Worldwide PC shipments have now fallen for five quarters in a row, making it the "longest duration of decline" in history, according to research firm Gartner.
That has hurt the fortunes of firms such as HP, which have struggled to maintain their growth rates.
"My read was that fiscal 2014 growth was a stretch goal rather than a baseline assumption," said Shebly Seyrafi, an analyst at FBN Securities.
"That has become more challenging."