US Federal Reserve minutes show few clues on tapering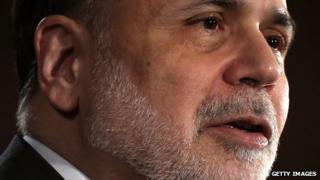 Minutes of the US Federal Reserve's July meeting revealed few clues about the central bank's timeline for unwinding its extraordinary efforts to support the US economy.
Officials said they were "broadly comfortable" with plans to scale back the Fed's $85bn (£54bn) a month bond-buying programme.
However, the timing remains murky.
Almost all agreed a change in the programme was "not yet appropriate" but "a few" favoured swift action.
Fed officials said that recent economic data had been "mixed", which could indicate that plans to begin the so-called "taper" might be put off if the economy were to weaken.
The central bankers will reconvene on 17 September for a two-day meeting, which will be followed by a press conference by chairman Ben Bernanke.
Market uncertainty
The Dow tumbled by more than 100 points after the minutes were released, although quickly recovered. The S&P 500 and Nasdaq also fell briefly.
"I think if people were looking for additional clarity they got additional obfuscation," Sam Stovall, chief equity strategist at S&P Capital IQ, told the BBC.
Mr Stovall said the minutes "added to the uncertainty as to when the tapering will actually take place".
After Mr Bernanke hinted at plans to end the bank's accommodating monetary policy in June, mortgage rates jumped sharply, threatening a fragile housing recovery.
Fed officials acknowledged that market reaction to discussion of an easing of expansionary monetary policy has been volatile.
"Meeting participants pointed to heightened financial market uncertainty about the path of monetary policy and a shift of market expectations toward less policy accommodation," according to the minutes.
The September Federal Open Market Committee meeting will occur after a spate of economic data has been released, including another jobs report as well as revised second-quarter GDP estimates.
Officials hope this new data will help give them a better sense of when tapering should begin, which many investors believe will happen sometime before the end of this year.
Mr Bernanke has indicated that the timing of the Fed's decision will be dependent on a healthy US economy.