CBI: UK manufacturers enjoying strong rebound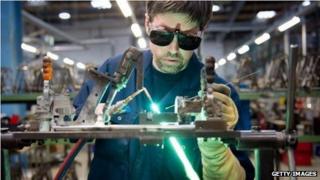 Manufacturers in the UK are enjoying the strongest rebound in two years, according to a survey by the CBI.
Orders, especially for exports, have recovered strongly, according to the business group's regular Industrial Trends survey of 400 firms, and the growth rate is expected to accelerate.
The buildings materials, electrical goods and metal manufacturing sectors are seeing particularly robust growth.
Firms reported that the stronger demand was not yet leading to price pressures.
Respondents to the latest quarterly survey did not expect, on balance, that output prices would rise over the coming three months.
"Manufacturers have seen a real upturn in fortunes this quarter," said Stephen Gifford, the CBI's director of economics.
"Domestic and export orders have rebounded almost across the board."
The survey adds to evidence that the UK's economic recovery may finally be building up a head of steam.
Meanwhile, a separate survey suggested that small and medium-sized manufacturers in England are gaining more confidence to invest in expanding production.
The survey of 700 companies by the Manufacturing Advisory Service found the proportion of respondents planning investments in new machinery and premises had increased by 12 percentage points from a year ago, while more than half reported an increase in sales.
Two-thirds of the firms said they expected turnover to increase in the coming months.