Heineken profits fall as bad weather hits sales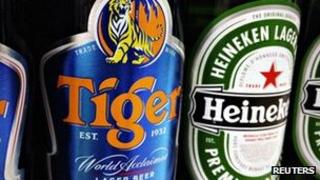 Poor weather in Europe and the US has contributed to a fall in profits at Heineken, the world's third-largest brewer.
Heineken, whose brands include Sol and Strongbow cider, saw first-half profits fall 17% to 639m euros (£546m).
It said bad weather had led to weak "consumer sentiment", but there was also slower growth in emerging markets.
Chief executive Jean Francois van Boxmeer said the outlook for the second half of 2013 was similar.
Revenues rose 3% to 10.4bn euros, but that was because of Heineken's takeover of Asian Pacific Breweries, the maker of Tiger beer.
Heineken bought the 58% stake in APB it did not already own for 4.8bn euros last year.
Shares in Heineken fell 4% in early morning trading.