India central bank moves to boost liquidity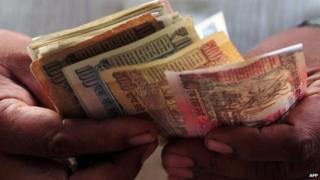 India's central bank has said that it will inject 80bn rupees ($1.3bn; £806m) into the country's banking system by buying long-term government bonds.
It comes just days after the central bank tightened the money supply in an attempt to stem the rupee's decline.
The move is expected to make more credit available and also bring down borrowing costs for the government.
On Tuesday, the bond yield or the cost of borrowing on India's 10-year bonds touched 9.48%, the highest since 2001.
The Reserve Bank of India (RBI) said that it was "important to ensure that the liquidity tightening does not harden longer term yields sharply and adversely impact the flow of credit to the productive sectors of the economy".
The bank said that it will buy the bonds via open market purchase operations (OMOs) on 23 August.
'Unintended consequences'
India has been grappling with a declining currency. The Indian rupee has fallen nearly 16% against the US dollar since May and is Asia's worst performing currency so far this year.
On Tuesday, it dropped to an all-time low of 64.13 against the US dollar, before strengthening slightly.
The decline has prompted the central bank to take steps to try to prop-up the currency.
Crisis jargon buster
Use the dropdown for easy-to-understand explanations of key financial terms:
AAA-rating
The best credit rating that can be given to a borrower's debts, indicating that the risk of borrowing defaulting is minuscule.
Recently it increased the interest rate at which it lends money to other banks and also put a cap on their daily borrowings.
While the measures had little impact in stemming the rupee's decline, they did trigger concerns that a tightened credit supply may hurt India's growth - which has fallen to its lowest level in a decade - even further.
Analysts said that the central bank's move would not only help allay fears over liquidity but will also help the rupee.
"RBI is trying to ensure that the unintended consequences of their liquidity tightening steps that led to a spike in long-end bond yields are corrected," said Ashish Parthasarthy, a treasurer at HDFC Bank.
"These measures will bring down 10-year bond yield sharply and will also reduce banks' depreciation losses significantly."
NS Venkatesh of IDBI Bank added that the steps "will help the rupee positively" as foreign investors are likely to be attracted back to the Indian debt market on the expectation of falling yields.