Greece will need new bailout, says Germany's Schaeuble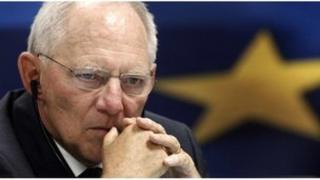 Germany's finance minister Wolfgang Schaeuble has said for the first time that Greece will need another bailout to plug a forthcoming funding gap.
His comments come at a sensitive time for his party as Germany will hold elections in five weeks' time.
Germans are uncomfortable with the size of European country bailouts, for which they pay the lion's share.
His boss is Germany's leader is Angela Merkel, who said recently it was too early to talk about new funding.
But Mr Schaeuble told an election rally: "There will have to be another programme in Greece."
Mr Schaeuble's comments place him as one among many who believe Greece will have to be given new funding to balance its books, but they are at odds with his party leader's public stance on the matter.
Smaller
The amount of new money in question is likely to be far smaller than the 240bn euros (£205bn, $320bn) already granted by the International Monetary Fund (IMF), the European Central Bank and the European Union.
The IMF last month estimated Greece will need around 11bn euros in 2014-15.
A Greek finance ministry official told the Reuters news agency that any new bailout would involve sums far smaller than in previous rescues and would focus on plugging an expected funding shortfall over 2014-16.
The country's economy has shrunk further than any other in Europe, with bailout money only released on condition that the government imposes cuts and implements restructuring.
Inspectors from the bodies overseeing Greece's bailout conditions, the European Commission, European Central Bank and IMF, will next visit the country in the autumn to see if further cuts and reforms are needed to help Greece reduce its debts.