Ben Kaufman's Quirky quest to transform invention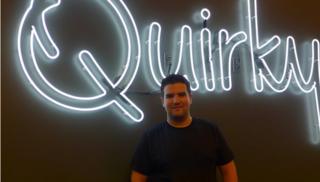 Ben Kaufman started his first company - an iPhone accessories business that eventually created the popular Mophie battery pack - while still in school.
In order to get the funding he needed, he convinced his parents to re-mortgage their house.
"I've raised a lot of money since then, and I joke that the hardest money I ever raised was from my parents," says Mr Kaufman, 26, the founder of Quirky, a US technology company that aims to make invention accessible to ordinary people.
"They put me through the wringer - they made me write a business plan and the whole thing," he says with a laugh.
Armed with that business plan, the teenage Mr Kaufman boarded a plane to China, intent on seeing his product - initially, a lanyard that would conceal his iPod headphones so that he could listen to music unobserved during his school maths class - come to fruition.
"It was about 48 hours into [the trip] that I realised all of the things standing in my way had nothing to do with money. That the realities and the complexities of actually bringing a product to life were vast."
Mr Kaufman says he got lucky, in that everything went according to plan with the manufacturers and the suppliers in the facility he chose in Shenzhen, China.
But it was there that the seeds for his current venture were planted - a means to help people collaborate on inventions to more easily bring them to market.
Today, Mr Kaufman is the head of Quirky, which he founded after he sold Mophie in 2007.
His goal, born of his school struggles, is to make sure that anyone with a great idea for a consumer product can get that product made, regardless of cost or logistical hurdles.
Inventor's paradise
Housed on the seventh floor of a former marine terminal on Manhattan's West Side, visitors to Quirky's offices are warned at ground level that while deliveries and humans are welcome, "suits" should "go away".
The company has grown rapidly, so much so that Mr Kaufman jokes: "Every six months it feels like I'm running a different company - more people, more responsibility, more products, a bigger community."
Every day, across the globe, would-be inventors submit ideas via Quirky's website, where they must answer two questions:
What problem are you trying to solve?
How do you intend to solve it?
The company holds a meeting every Thursday, which is streamed online, during which the Quirky community votes on the best product ideas.
These successful proposals are then passed on to Quirky's 150-strong staff of engineers and product designers, who work on turning the paper proposal into a physical product.
If the product is successful, Quirky turns 10% of the profits over to the inventor and the team of "influencers" - the Quirky community members that voted on the proposal, and provided feedback on everything from colour to size to fundamental design tweaks.
The rate might seem low, but Mr Kaufman argues Quirky is "taking on all the risk, we're actually doing all the work, carrying the overhead - so we own the product".
Since its founding in 2009, Quirky has manufactured 380 consumer products using input from more than 480,000 community members.
Most notably it brought to market Pivot Power, which the company claims is the first "flexible" power socket extension system in the world.
Invented by a college student, Jake Zien, and a team of 708 influencers, the product can now be found in big US retailers, including Bed, Bath, and Beyond and Target. It has netted Mr Zien and Quirky hundreds of thousands of dollars.
Patent proliferation
Mr Kaufman says he is still trying to convince investors that Quirky isn't just a great ambition, but a great business as well.
He says: "We don't want to just make invention accessible for six months, or a year, or three years, or five years. We want to make invention accessible always. And in order to do that we need to be a self-sustaining business."
Quirky has reportedly raised more than $90m (£56m) in venture funding, and many of its consumer products have been successful in the US.
It has also partnered with industrial giant General Electric to gain access to "unlock" the thousands of patents GE says it can no longer find use for.
As long as the eventual product doesn't compete with GE - and Mr Kaufman says 99.9% won't - Quirky has been given free licence to manufacture whatever its community sees as viable.
But what about the detractors who say that the entire idea behind Quirky is too out there, too different from the traditional model of corporate innovation?
Mr Kaufman responds: "Well, I'm a little quirky - when people tell me I'm crazy it just makes me want to do it more."