TUC: Pension changes will make millions worse off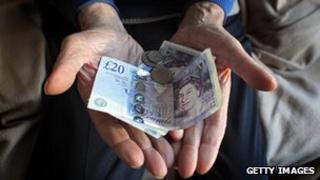 Millions of people currently entitled to the state second pension will be worse off as a result of the government's pension changes, the TUC has claimed.
The report says that anyone with a long working history is likely to lose out, by as much as £2,000 a year.
The second state pension will be abolished when the new single-tier pension begins in April 2016.
But the government said the changes will make most people better off.
Around 20 million Britons are currently part of the state second pension scheme, introduced 10 years ago to boost pension levels for low earners.
The TUC report suggests that the "vast majority" of them will get less money when they retire.
"Many low and middle-income private sector workers, particularly those several decades away from retirement, could be thousands of pounds a year worse off in retirement," said Frances O'Grady, the TUC general secretary.
The Trade Unions support the principle of the single-tier pension, but want it to be raised from the current notional level of £144 a week.
'Better off'
However, the government said that most people retiring after 2040 would be better off with the new pension over the course of their retirement.
"The flat rate will provide a fair base, set above the basic level of means test, helping people to know how much they need to save for the kind of retirement they want," said a spokesman for the Department for Work and Pensions (DWP).
A report by MPs on the Work and Pensions Committee in April 2013 supported the idea of the new single-tier pension, but said the government needed to be clearer when explaining it to the public.
The MPs concluded: "It will mean more state pension for many people, particularly low-earners, in the short to medium term."
But a previous report from the Institute for Fiscal Studies (IFS) found that people born later than the mid-1980s would be worse off when the single-tier pension was introduced.
It said that low earners could be £1,000 a year poorer, while high earners could lose £2,300 a year.
But on average, it concluded that women would be about £270 a year better off and men would be £81 better off.
Low earners
The TUC study claims that anyone on a median income of £26,000 a year, and who has a full employment record, will be worse off as soon as the new pension is introduced.
Such a person retiring in 2030 would receive £1,500 a year less than under the current system.
Someone retiring 10 years after that would be £2,000 a year worse off.
Low earners, on an income of £10,000 a year, will be better off if they plan to retire soon after the changes are introduced.
But such people retiring in the 2040s will be up to £1,700 a year worse off.
Pensions expert Malcolm McLean, of consultants Barnett Waddingham, said the TUC report was broadly correct.
"It was always the case that there would be both winners and losers from the new scheme which the Treasury had dictated had to be introduced at no overall extra cost," he said.
"The real message for young people in particular is to try to build up for themselves a private pension to supplement the state pension," he added.
And the government argues that it is doing a lot to help people save through private-sector pensions.
Under its auto-enrolment programme, employers have to sign people up to their pension schemes, unless they choose to opt out.
In the last year, it says that 1.4 million people have been signed up to workplace pensions as a result.