Home Depot profits lifted by US housing recovery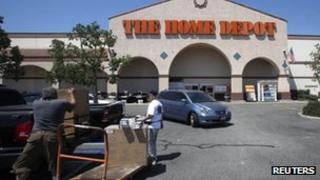 Home Depot's second-quarter profits have jumped 18%, driven by a recovery in the US housing market.
The biggest US home improvement retailer beat Wall Street profit forecasts, earning $1.8bn (£1.15bn) in the three months to 4 August.
Revenue for the quarter climbed more than 9% to $22.52bn, from $20.57bn in the same period last year.
Better US job prospects and low interest rates have helped to boost home building and renovation.
On Friday, the US Commerce Department said builders began work on houses and apartments at a seasonally adjusted annual rate of 896,000 in July.
That was up 6% from June, although below a recent peak of more than one million in March.
In a trading update in May, Home Depot said its sales to builders and tradesmen were rising faster than those to individual homeowners and other shoppers for the first time since 2008.
The company's shares are up 22% this year.
Home Depot has more than 2,250 stores in the US, Canada and Mexico.