Only 132 signed up to Green Deal programme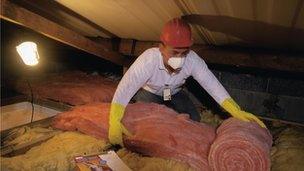 Eight months after the government launched its flagship Green Deal scheme only 132 people have signed up to it.
The government said those households were now "in the process" of getting energy efficiency measures installed.
In March, the Minister for Energy and Climate Change, Greg Barker, said he expected 10,000 people to be signed up by the end of 2013.
Under the scheme, householders can borrow money to install double-glazing, insulation and more efficient boilers.
The savings they make on their energy bills should outweigh the cost of repayments. If a house or flat is subsequently sold, the loan transfers to the new owner.
The Department of Energy and Climate Change (DECC) said that just one person had reached the "live" stage of the programme so far.
That means they have had the work completed, and are making repayments under it.
The Green Deal was launched in England and Wales in January 2013, and in Scotland a month later.
Under the scheme, households get an initial assessment to calculate any savings they could make.
DECC's figures show that 58,000 such assessments were completed up until the end of July, suggesting many more people may eventually sign up to the programme.
The government has already acknowledged that the Green Deal has got off to a slow start, and previously said there had been problems with the companies providing the loans.
But it also said it expected the numbers signing up to rise.
"This ambitious long-term programme is still in its initial months, but over 58,000 Green Deal assessments shows genuine consumer interest and we expect continued steady growth as we go into the winter," said Mr Barker.
But Labour said only 1% of people having an assessment had gone on to sign up for the deal.
"The fact that over 99% of people who had a Green Deal assessment didn't want to take out a package should be a wake-up call for the government," said Luciana Berger, the shadow minister for climate change.
So far the government has spent more than £16m on the programme.
Local authorities have also been offered £20m to help promote the Green Deal in specific areas of need.
Related Internet Links
The BBC is not responsible for the content of external sites.