Persimmon profits jump on 'improving homebuyer demand'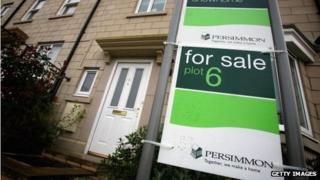 House-builder Persimmon has announced a big jump in profits, amid "improving customer demand" for its properties.
Underlying pre-tax profits were up 40% to £135m in the first six months of 2013, from £97m in same period in 2012.
The company said it had benefitted from mortgage credit becoming more easily available, and from the introduction of the government's Help to Buy scheme.
It said it was focusing on buying more land for future house-building, adding 800 acres in the first half of 2013.
"We anticipate that Persimmon will continue to make good progress, but we remain mindful of the wider economic challenges facing the UK economy," said chairman Nicholas Wrigley.
"Throughout the second half of this year, we will continue to focus on the basics of good house-building to deliver further improvements in the performance of the business."
Persimmon said that interest in its properties had increased, with visitors to sites up by 15% from a year ago.
It had also seen a boost from Help to Buy, securing more than 1,700 reservations since the scheme's launch in April 2013.
The company said that it spent £236m acquiring new land, up from £142m in 2012, bringing the total number of plots it owns to 70,716.
Persimmon planned to begin construction on 85 new sites before the end of 2013, and said it was currently building on all sites that had implementable planning consent.
It currently has 390 active construction sites across the UK.