Male bonuses double those of women, says study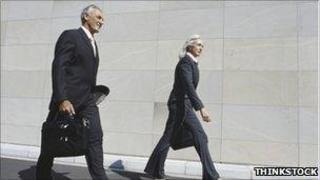 The pay gap between men and women is exacerbated by bonus payments given to male managers which are on average double those for women, says the Chartered Management Institute (CMI).
Male managers' average extra payments were £6,442 last year compared with £3,029 for women.
The CMI said their salaries were already almost 25% higher than women's.
Its study, of 43,000 managers, showed that men would earn £141,000 more in bonuses over a lifetime.
At more senior levels, the pay gap for both basic pay and bonuses, increased.
Women directors' average bonus is £36,270, while men receive £63,700.
Loss
The chief executive of the CMI, Ann Francke, said: "Despite genuine efforts to get more women onto boards, it's disappointing to find that not only has progress stalled, but women are also losing ground at senior levels.
"Women are the majority of the workforce at entry level but still lose out on top positions and top pay. The time has come to tackle this situation more systemically."
She said businesses would lose out in terms of growth, employee engagement, and more ethical management cultures.
Labour's shadow minister for women and equalities, Yvette Cooper, said: "It's disgraceful that the corporate gender pay gap seems to be getting wider rather than narrowing.
"Women executives already only get three-quarters of the pay of male executives in similar jobs. And now this research shows women managers are only getting half the bonuses too.
"It is in the interests of business and the economy for women's talents to be valued and promoted. And it's high time that women were fairly rewarded. Instead, once again, it looks like the clock is being turned back."
Target
Earlier this year, Boardwatch UK recorded the first fall in the percentage of women on boards since the figures were first complied in 1999.
Lord Davies, who conducted a review into the gender balance on company boards in 2011 set a target for 25% women to be reached by 2015. The current representation is 17%.
The study was assisted by the salary specialists XpertHR.
Mark Crail, from XpertHR, said: "There is no good reason for men to still be earning more in bonuses than women when they are in very similar jobs.
"But it's often the case that men and women have different career paths, with 'male' roles more likely to attract bonuses.
"While women are generally getting lower bonuses than men, especially at senior levels, they may be entering occupations where there is less of a culture of bonus payments. The question for employers is why that's the case."
Separately, the Office for National Statistics reported on Tuesday that total bonus payments across the whole UK economy in the year to end-March were £36.9bn, a 1% rise on the previous 12 months.
The total equates to an average of about £1,400 per employee.
The ONS said that £13.3bn was paid in the finance and insurance sector, virtually the same as the previous year.
Sectors that saw a rise in bonuses included the communication, retail, and transport industries.