Bovis Homes' profits up as average house price rises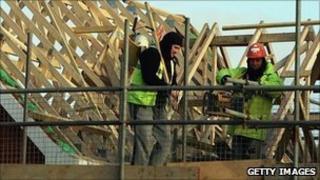 UK housebuilder Bovis Homes has reported a sharp increase in profits, boosted by a rise in the average selling price for its homes.
Pre-tax profits rose 19% to £18.6m in the six months to the end of June, with average prices up 15% to £188,500.
Bovis said it had already sold 90% of its homes for this financial year allowing it to focus on building its order book for next year.
It also said that profits for 2013 as a whole would be up "significantly".
Bovis Homes chief executive David Ritchie said the strong performance in the first half of the year had been "assisted by the positive effect of stronger home buyer sentiment, supported by the Help to Buy scheme launched in April 2013".
'Sweet spot'
The Help to Buy scheme, launched in April, allows buyers to put down a deposit of just 5%, and take out an equity loan from the government for up to 20% of the property's value.
The scheme has been criticised by some economists, who say it is just helping to inflate house prices.
The former governor of the Bank of England, Sir Mervyn King, said the scheme, currently due to run until 2017, should not be extended.
Bovis said 500 of its buyers had taken advantage of the scheme since its launch.
Bovis said it had secured 1,712 private reservations in the 32 weeks to 9 August, a 43% increase compared to the same period last year.
And it said it expects average sales prices for the full year to be at least 10% higher than 2012.
"The positive trading position will enable the group to increase profits significantly in 2013 in line with its expectations," added Mr Ritchie.
It also lifted its dividend by 33%.
Keith Bowman, equity analyst at Hargreaves Lansdown Stockbrokers said Bovis' results were at the upper end of expectations.
"Bovis remains in something of a sweet spot," he said. "Despite its part in past boom and busts, the government is now back priming the pump, aided by ultra supportive Bank of England policy."