Japan trade deficit worsens on back of weak yen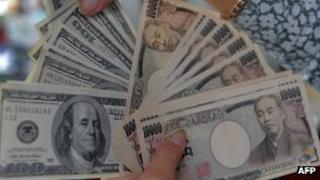 Japan's trade deficit worsened in July, almost doubling from a year ago, as a weak yen boosted import costs.
The deficit for the month rose to 1.02tn yen ($10.5bn; £6.7bn), as imports surged 19.6% from a year ago.
The yen has fallen nearly 25% against the US dollar since November 2012, as policymakers unveiled a series of aggressive measures to revive growth.
Analysts said that despite the growing deficit, the government was likely to stick to its aggressive policies,
"In the short term the government will focus on its weaker yen policy as its priorities are very clear," Junko Nishioka, chief Japan economist at RBS Securities in Tokyo, told the BBC.
"They want to revive growth in the Japanese economy and a weak yen is key to achieving that goal," she added.
According to data released earlier this month, Japan's growth rate slowed in the April to June quarter, from the previous quarter.
The world's third-largest economy grew at an annualised rate of 2.6% during the period, down from the 4.1% annualised rate in the first three months of the year.
Export boost
A weak yen has its advantages as well, the biggest one being that it makes Japanese goods cheaper for foreign buyers.
That helps to boost exports - one of the key drivers of Japan's economic growth.
Data released by the Ministry of Finance showed that shipments from Japan rose 12.2% in July, from a year ago, the fastest pace of growth since December 2010.
Exports to China, Japan's biggest trading partner, rose by 9.5% from a year earlier, compared with 4.7% growth in June.
Meanwhile shipments to the US jumped by 18.5% from a year ago, up from a 14.6% rise in the previous month.
Analysts said that economic recovery in key markets such as the US, coupled with a weak yen, should help to boost exports even further in the coming months and help bring down the deficit levels.
"The deficit will likely shrink going forward as exports are expected to outpace imports due to the impact of the yen," said Hideki Matsumura, as analyst with Japan Research Institute.
At the same time, a weak yen helps boost profits of exporters when they repatriate their foreign earnings back home.
The hope is that increased profits will result in more cash for these firms to spend on expanding their facilities and giving salary increases to employees.
Many analysts have said that such moves by Japan's big exporters are likely to help revive domestic demand and boost economic growth.